Francis Benali denies Claus Lundekvam spot-fixing claim
Last updated on .From the section Football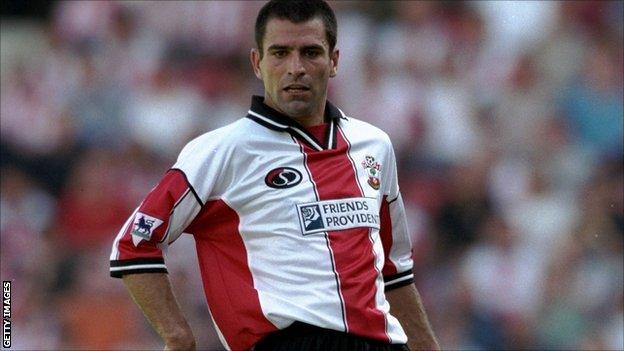 Ex-Southampton captain Francis Benali has denied there was a culture of spot-fixing at the club following comments from old team-mate Claus Lundekvam.
But Benali says he saw no evidence of illegal betting at Southampton.
"I can say categorically I have no knowledge of the betting allegations made by Claus," Benali told BBC Solent.
In an interview for Norwegian television, Lundekvam, who was at Southampton between 1996 and 2008, is said to have admitted players pooled money and gave it to club staff to place bets on things such as who would win the first corner, the first throw-in and yellow cards.
Benali says that was not the case and questioned the motives behind the allegations.
"I'm aware of the revelations and I'm very surprised in many ways," he said.
"I wasn't aware of it going on in the past so I certainly don't know of it going on now.
"It is widely known that Claus has had quite a few personal problems in recent times and I wonder if that is why he has come out with this story.
"The way it has come across, it's like all of us were at it and all in on the betting scam and everyone had knowledge of it. That wasn't the case."
A statement isssued by football's governing body on Wednesday said: "FIFA is monitoring this issue and involved its chief investigator in England. Once all information is known it will be decided who is leading the investigations."
In 2009, former Saints playmaker Matt Le Tissier admitted betting on the timing of a first throw-in and attempting to kick the ball out of play deliberately when he was at Southampton - a year before Lundekvam's arrival.
Benali who made 371 appearances for Saints between 1987 and 2004 says he would known of any illegal betting at the club.
"Dressing rooms are very tight environments and if something was widespread, even if you weren't part of it, you would hear it being discussed and talked about," he said.
"That is why this all comes as such a surprise.
"The timing isn't good from the football club's point of view. No club wants a story like this associated with them, nor do the city or the players involved at the time.
"It's a smear on your character and not nice, especially when it's not true."