Carlisle boss Greg Abbott happy with summer preparations
Last updated on .From the section Football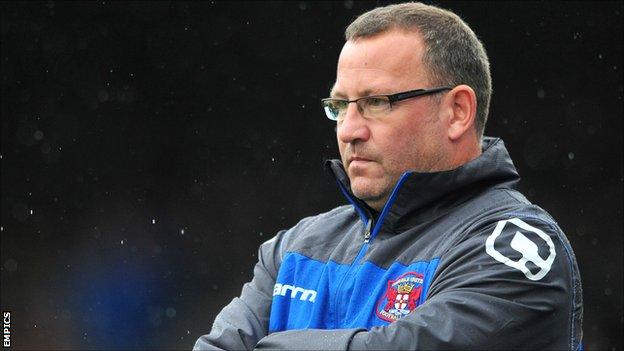 Manager Greg Abbott is confident Carlisle's pre-season schedule will provide the ideal preparation for the forthcoming League One campaign.
United kick off their friendly fixtures with a trip to Kendal on Friday, the first of seven outings this summer.
"If you get this first month right it carries you a long way through the season," Abbott told BBC Radio Cumbria.
"You build from the bottom - if you get the base wrong it'll fall down, but get it right and it carries through."
He added: "We've enjoyed this task, how hard and important it is, and the players have bought into it. They're a terrific group.
"The next few weeks will be really intense, and hopefully we can get the right work into them that sets us up for the season."
Abbott's side returned to pre-season training last Thursday, with two new arrivals in the shape of Danny Cadamarteri and Mike Edwards.
However with another seven weeks before the transfer window closes the Cumbrians are confident of adding to their number.
"There are a lot of people now that are training with clubs, and should be training with clubs, but haven't got clubs and they get anxious so you get a lot of names thrown at you regularly," said Abbott.
"So we'll check that and the moves that we have made on players already, and see where decision making is and progress is made.
"But I don't see any problems with us having a couple of new faces in before the start of the season."
Details of BBC Radio Cumbria commentary on Carlisle United's pre-season fixtures can be found here.