Watford supporters back new regime to deliver success
Last updated on .From the section Football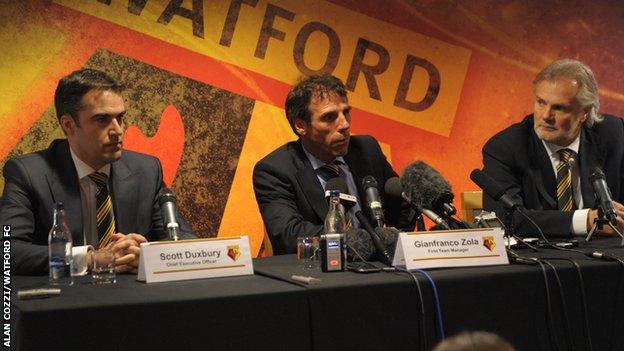 Watford fans are ready to give the club's new regime time to lead it back to the Premier League.
Former West Ham boss Gianfranco Zola has been installed as manager after the recent takeover by the Pozzo family.
And Professor John Fawell, chairman of the Watford Supporters' Trust, told BBC Three Counties Radio "really interesting times" lay ahead.
"I think we're heading for the Premiership... but the time frame is a whole different ballpark," he said.
"I talked to [technical director] Gianluca Nani and [chief executive] Scott Duxbury and the view is that perhaps this next season will be a transitional season, with no great expectations apart from staying in the division.
"But once they've got their set-up there, we will kick on for the future and the most important thing for us in the Trust that this looks like a long, stable period of ownership. That's something we've desperately needed."
The Pozzos were brought to the club by Duxbury and Nani, who previously worked together at West Ham along with Zola.
"Myself and Gianluca had an idea of what we wanted to do with a football club, how to run it, how to grow it into a Premier League side and that model of running a club and vision was very much aligned to the Pozzo family," said Duxbury.
"Once we realised our interests were aligned, they said 'Fine, we'll back you. Let us know which club you believe has the best potential for us to achieve our goals' and that was Watford.
"They demand success, but they don't put a timescale on it. As long as the club is progressing on the field and off the field, as long as it's moving in that direction, they're happy.
"They keep on saying it's just a question of when we get to the Premier League, not if."
Watford have not played in the top flight since 2005 and Zola is now expected to undertake a major revamp of the squad with backing from the Pozzos, who also own Italian Serie A side Udinese and Spanish La Liga club Granada.
And Duxbury admitted that producing players and then selling them on to other clubs was part of their future business model.
"Our philosophy with the Pozzos is that if we sell a player, it's because he is at his top value and we've identified a better, younger player - and as long as the money we generate from player sales goes back into the squad, rather than funding operating losses, then it's a sensible strategy.
"That's what Udinese and Granada do, and that's eventually what Watford will do," he said.
Duxbury said they had nothing but respect for the record of previous manager Sean Dyche, who last season led the club to 11th place in the Championship, but the Pozzos did not know him and wanted their own man in charge of the team.
"They have complete faith in Gianfranco. If he loses the first five games, they won't panic, they believe in what he can do, they will give him investment and they will stay with him.
"We have a new dawn now, we have new ambition and we've all just got to work together now, owner, supporters, manager, to achieve it," he added.