George Peat eyes single governing body for Scottish football
Last updated on .From the section Football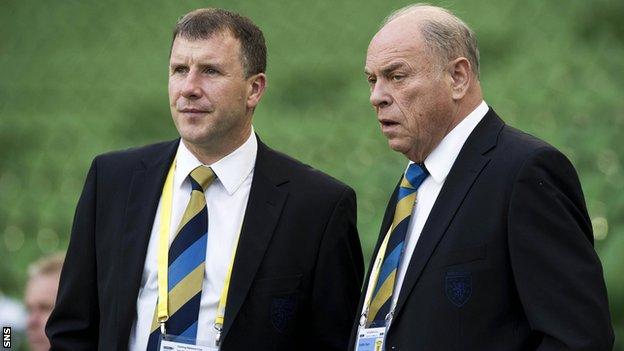 Former Scottish FA president George Peat is saddened and perplexed by the row over where to place a newco Rangers.
"When I left, the relationship between the Scottish Premier League and the Scottish Football League was good," Peat explained.
"People were looking at things from the same point of view.
"I hope what has happened at Rangers hasn't blown it all apart but from an administration point of view, Scottish football has hit a brick wall."
Peat retired last summer after four years in the post, thinking that Henry McLeish's Review of Scottish Football, which he commissioned, would bring about reforms based on consensus.
However, the demise of Rangers and questions around where and under which circumstances Charles Green's Ibrox newco will take its place after being denied entry into the SPL, has resulted in turmoil.
SFL clubs will vote on Friday on whether Ally McCoist's side will start life in the First Division or Third Division next season.
The SFA and SPL are proposing a package of reforms, including a merger of the governing bodies, in a bid to persuade SFL clubs to accept the newco in their top tier and Peat sees such restructuring as a possible silver lining.
"SFL clubs have been put in an invidious position," he said. "It is the SFL clubs who are suffering and they feel they have had the problem dumped on them.
"The clubs are never all going to agree but what is important right now is that people look at what is right for the long-term future of Scottish football.
"I have always said there should be one organisation and I hope now that we can get back to that.
"Out of this awful situation Rangers find themselves in, there is a real chance to restructure the game and complete the final part of the McLeish Report.
"When I commissioned it, people expected it to sit on a shelf but people forget that the Scottish FA have radically modernised the governance of the game, put a Performance Strategy in place and have made wholesale changes.
"People have short memories but reconstruction can be the one positive from this situation.
"I hope there will be an amicable agreement but nobody knows what deal the SPL have offered the SFL.
"Voting (rights), how much money, how much of it will reach the Third Division, these are questions that have to be answered and we won't find out until Friday."