Nwankwo Kanu and Aaron Mokoena set for Portsmouth exit
Last updated on .From the section Football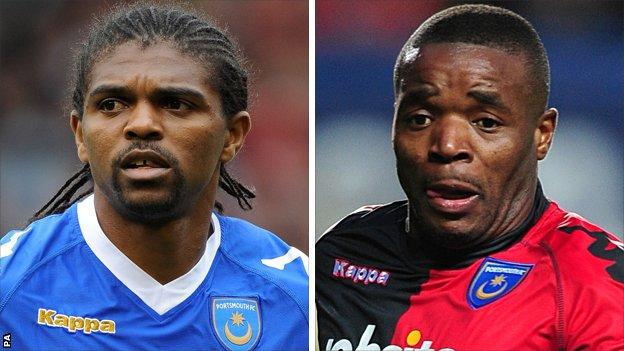 Nwankwo Kanu and Aaron Mokoena's Portsmouth careers appear to be over after the pair failed to report for pre-season training on Monday.
Luke Varney and David Norris are also edging towards the Fratton Park exit but Ashley Westwood's arrival as first-team coach continues to be on hold.
Pompey boss Michael Appleton only had eight senior players at training.
"I was expecting 10 at training, but there were a couple of absentees," Appleton told BBC Radio Solent.
Striker Kanu, 35, has played 167 times for Pompey since joining from West Brom in 2006 while midfielder Mokoena has made 89 appearances following his arrival from Blackburn in 2009.
Appleton admits after a troubled summer in which the club faced liquidation, he was pleased to get back to work.
"It was a sigh relief to get back to training," he added.
"It was an interesting experience only having eight senior players turn up for training. They came back in reasonable shape and gave it a good crack."
Appleton says he is unsure where Kanu and Mokoena are, but added they were unlikely to play for the club again.
"If I was a betting man. I'm guessing one is in Nigeria (Kanu) and the other is in South Africa (Mokoena).
"We are very close to an agreement with Aaron. Regarding Kanu, who knows?
"I think there has been a conversation between Kanu's solicitors and (administrator) Trevor Birch, but I'll leave that to them to sort out. I doubt very much they'll be back."
Striker Varney has been strongly linked with a move to Leeds United while midfielder Norris is being tipped to join Sheffield Wednesday.
Appleton expects those moves to happen before the start of the season, but attempts to bring in Westwood from Lincoln continue to be problematic because of the club's ongoing financial troubles.
"I think they have been in contact with the clubs and over the coming days I would imagine Luke and David would get themselves sorted and we'll move forward from there," said Appleton.
"We still need bodies to leave the building before we can bring people in.
"Everything has been agreed with Lincoln, but at the minute I don't expect anything to be finalised until the end of the week."
Appleton also revealed that former Chelsea defender John Harley was on trial at the club.
Former Doncaster Rovers defender Mustapha Dumbuya is also on trial with Portsmouth.