Goal-line technology on agenda for 2013 Nations Cup
Last updated on .From the section Football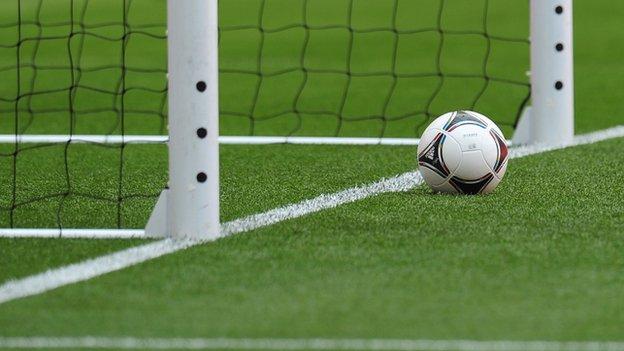 Goal-line technology will be on the agenda when organisers for the 2013 Africa Cup of Nations next meet, says African football's ruling body Caf.
"This topic will be tabled … in September to discuss the way forward on its implementation, whether for the 2013 Nations Cup or later on," said Caf secretary-general Hicham El Amrani.
The next Nations Cup starts in January.
The month before the 2013 Nations Cup kicks off in South Africa, goal-line technology will be used for the first time - when the Fifa Club World Cup takes place in Japan in December.
It is possible that an African team will be the first to benefit from a decision since the continent's club champions take part in the event every year.
The Nations Cup is not a competition that has recently been affected by close calls over whether a ball has crossed the line.
However, Nigeria could have benefited from the technology in the final of the 2000 Nations Cup, when they were beaten on penalties by neighbours Cameroon.
But the shoot-out was bathed in controversy as one of the two penalties that Nigeria missed was wrongly adjudged not to have crossed the line.
Victor Ikpeba's strike hit the crossbar before bouncing over the line, as television replays clearly showed, but the disallowed strike enabled the Indomitable Lions to win the shoot-out 4-3.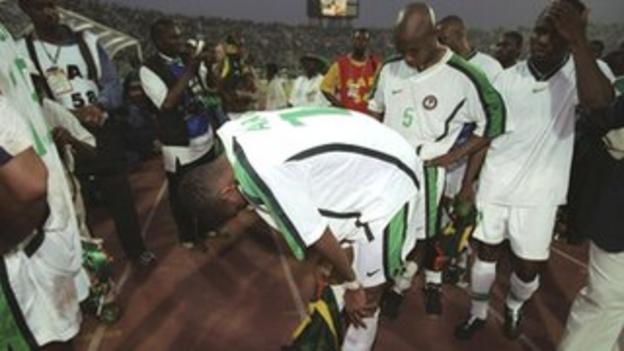 "Caf has no choice but to use goal-line technology - otherwise they would be heading backwards while the world is moving forwards," says Sunday Oliseh, who scored his penalty for Nigeria in the shoot-out.
"When you look at the final in 2000, the ball went over the line and the linesman was standing behind the goal and so could have seen it - but you could not challenge because it was just a split-second moment.
"But if goal-line technology had been present then, people would have raised their hands for it be checked out - and probably we would have been champions of Africa that year," the former Nigeria captain told BBC Sport.
"The most important effect this technology will bring is that it gives the power back to the people, not to some officials who - with all due respect - may not have been able to run the extra mile to see whether the ball has crossed the line or not."
If the technology proves to be successful at December's Club World Cup, there are plans to also use the system at the 2013 Confederations Cup and 2014 World Cup as well.