Rangers: Scottish football top brass 'lack leadership' - Pressley
Last updated on .From the section Football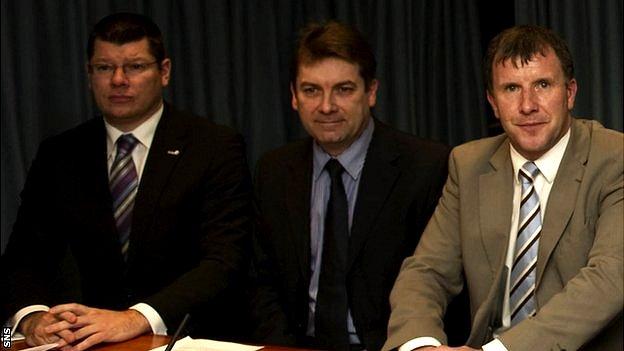 Steven Pressley has accused the chief executives of the Scottish Premier League and Scottish Football Association of a lack of leadership.
The Falkirk manager believes Neil Doncaster and Stewart Regan should have grasped the opportunity of the Rangers crisis to reform the Scottish game.
"There's a great opportunity here for change that can move this country forward for years to come," he said.
"There's been no vision from those at the top and it really disappoints me."
Scottish Premier League clubs this week voted against admitting a new Rangers, created after the old club faced liquidation, into the top flight.
It means that Dundee, who finished second top of Division One, are likely to be promoted, although relegated Dunfermline Athletic are challenging that scenario.
Rangers will have to be either admitted to the First Division or apply for a place in Division Three.
But Pressley thinks the opportunity should have been taken to increase the size of the top flight.
"I think that, over the past few months, when the whole situation has become very apparent, I think there's been a severe lack of leadership in this country," said the former Rangers and Scotland defender.
"And I think that, rather than solely finding the solution to the Rangers problem, they should have been used as an ideal catalyst for change within this country.
"I would have hoped that, throughout this whole period, Neil Doncaster has been going through various scenarios, working out various formats, league formats for all types of scenarios.
"If he hasn't got that then, for me, he hasn't done his job.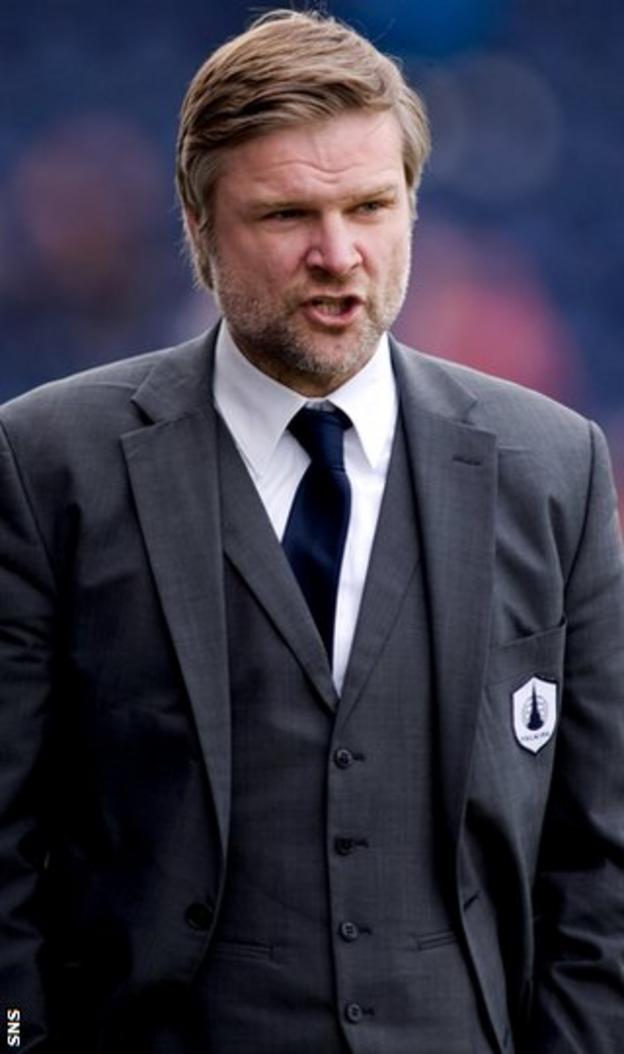 "He should have been giving us numerous options, numerous solutions to this problem and, as yet, I've not seen any evidence of that and that truly disappoints me."
Regan has spoken of dire financial consequences, with other clubs facing administration, should Rangers not be admitted to Division One with a subsequent threat to the SPL's television deal.
"It disappoints me, the recent press releases from Stewart Regan," said Pressley.
"He's painting a doomsday scenario. It may not be a doomsday scenario.
"This might be the real opportunity for Scottish football to flourish for years to come."
Pressley has long argued that an expanded SPL would create greater interest for supporters bored of teams playing each other four times and allow clubs more "breathing space" to develop young players.
He argues that those clubs who have most recently been able to break the domination of Celtic and Rangers - Aberdeen, Dundee United and Hearts - had built their success on youth development.
"We've got ourselves in a situation where were are solely reliant on TV money and we keep chasing that TV money and we ignore our own supporters," added Pressley.
"If clubs worked hard to get their supporters through the gates, I don't think there would be a need for great TV revenue in this country.
"I look at our own club and, two-and-a-half years ago, or two years ago, we suffered relegation.
"We faced some real financial challenges. We've cut the wage budget here by 70%, we've promoted our young players, we've sold young players, our academy's vibrant at this moment and our club financially has never been healthier."