St Mirren takeover bid: Fans group postpones plans
Last updated on .From the section Football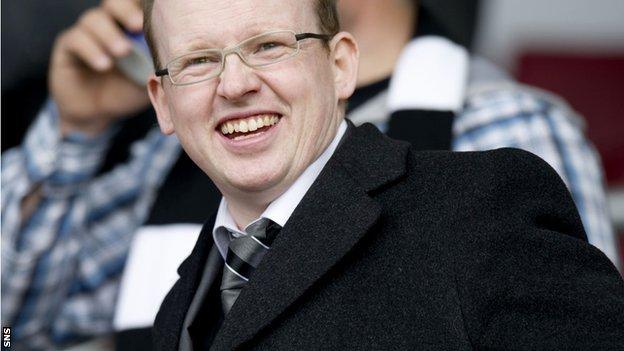 The 10000hours group aiming to take St Mirren into fan ownership has postponed its plans.
The community interest company had agreed to buy a 52% shareholding for £1.5m over three years.
However, in a statement the group said it was "not possible, nor sensible" to conclude the purchase until it knew the club's sponsorship income from the SPL.
And the group urged fans to buy season tickets for the forthcoming season.
Richard Atkinson had been fronting the fans' attempts to gain a majority shareholding.
A target of 750 pledges of £10 per month was surpassed but two other categories requiring significantly higher levels of funding had been lagging behind.
The other funding options were a one-off payment of £3,000 for what amounts to a lifetime membership and a fee of £25,000 to buy up a chunk of shares in the club.
The 10000hours group stated its support for the St Mirren board "and the rest of the SPL clubs for making a decision on the entry of the [Rangers] newco into the SPL based on sporting integrity rather than self-preservation".
And the statement added: "The club have done all they can. What happens now is in the hands of the SFA and SFL.
"We would hope that any fans who have held back from buying season tickets will now support the club in its hour of need.
"The money from these sales is essential to keep the club in funds until the sponsorship money is received from the SPL for the coming season."