Neil Doncaster calms finance fears after SPL reject Rangers newco
Last updated on .From the section Football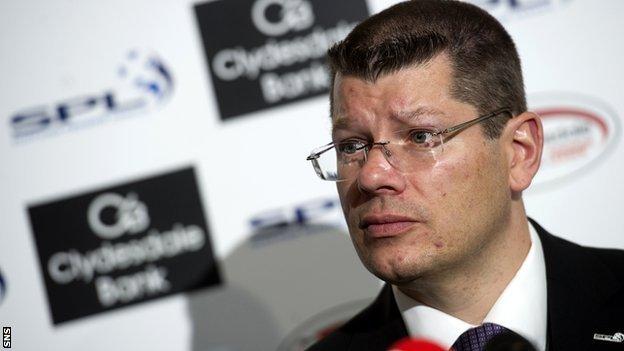 Scottish Premier League chief executive Neil Doncaster has played down fears of imminent financial difficulty for top flight clubs due to Rangers' absence.
Motherwell and St Mirren had expressed concern about the financial impact of not having Rangers in the division.
But, when asked if he thought clubs would now face insolvency, Doncaster replied: "I wouldn't have thought so."
And Doncaster added: "The whole issue has an awful lot riding on it, there are some big numbers involved.
"It's important to stress the easy decision would have been to say 'yes' and to allow the newco in and to protect commercial revenues.
"The clubs have not done that, they've decided to be bold and say 'no'."
"Clubs have made a decision that has implications for their bank balances, certainly not a positive decision for their bank balances in the short term, but they have done what they felt they had to do and what many supporters wanted them to do."
Loss of revenue for SPL clubs may stem from changes to television and commercial arrangements now that there will be no Rangers in the league.
"That certainly has to become clearer in the coming weeks," Doncaster said of the league's income streams.
"There are a lot more twists and turns and decisions to be made.
"Ultimately we're in a situation where we are selling a product and the market determines what it wants and what terms it wants that product."
Where Rangers do play is also unclear with the club applying to the Scottish Football League and stating they will play in whatever division the organisation deems fit.
SFL clubs will meet next week to vote on whether Rangers should start next season in Division One, but several member clubs have expressed opposition to the proposal and contend that Division Three should be the entry point.
Raith Rovers vice chairman Turnbull Hutton has speculated that there may be an attempt to form an SPL2 if Rangers are not voted into the second tier of the senior league set-up.
But Doncaster added after Wednesday's summit: "The idea of an SPL2 was not discussed at the meeting."
Meanwhile, BBC Scotland has learned Dundee, who finished runners-up in Division One last season, are likely to be invited to replace Rangers in the SPL.