Paolo Di Canio urges Swindon Town's Connell to accept offers
Last updated on .From the section Football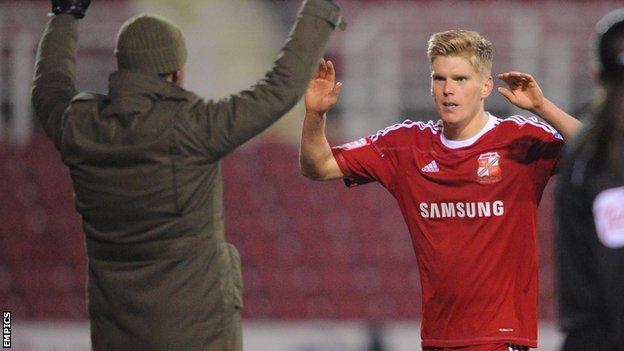 Swindon Town manager Paolo Di Canio has urged striker Alan Connell to be pro-active in searching for a new club.
Di Canio hinted that fellow League One clubs had shown interest in the forward but he has yet to agree a move.
"A club like Swindon can help you but you have to help yourself," Di Canio told BBC Wiltshire.
"With Alan, he has to decide.
"If a club comes to you, and we help you to move without asking for anything, you have to think you've got a two-year contract offer and you get to play in League One.
"We've given him the chance to move but he's firm in his position."
Di Canio signed Connell last summer on a two-year deal from Grimsby, but the striker failed to keep his place in the starting XI with 21 of his 44 appearances coming off the bench.
Connell, along with Jonathan Smith and Lee Cox, were left behind for Swindon's pre-season tour of Italy after being placed on the transfer list.
And Di Canio insisted there will be no place for Connell on their return: "It will be hard for him once we go back there.
"I will try to train everyone at the same level, but it's not easy with five strikers."
The Robins manager concluded that although he has deemed Connell surplus to requirements, he wants the forward to prove himself in the league next season.
"I hope he can join a club that is starting League One," added the Italian.
"I hope he becomes an avenger so he can say 'Di Canio didn't want me so I will show him that I can stay at the top level and maybe I'll score 20 goals and say bye bye Di Canio - you were wrong'.
"I hope for him, and for us, it goes OK for him in the next week."