Gillingham ordered to leave training ground by council
Last updated on .From the section Football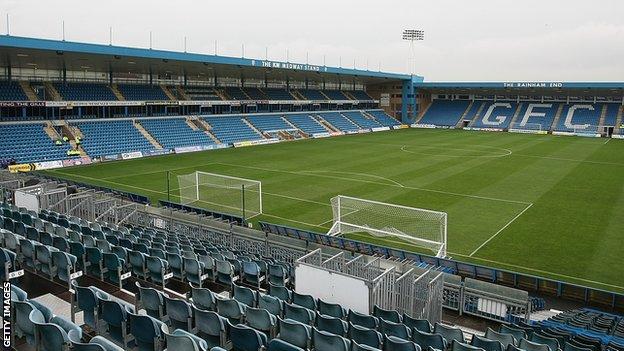 Gillingham have been ordered to leave their training ground after failing to pay bills.
Medway Council claims the League Two side owe more than £34,000 in unpaid utility bills and charges for using Beechings Cross.
It will begin legal proceedings if the Gills do not hand back the keys to the ground by Friday.
Gills chairman Paul Scally said he was "staggered" by developments and labelled the council "unprofessional."
He told BBC Radio Kent: "Nobody [at the council] saw fit to call me or discuss it with me.
"There are disputes on the utility bills which go back a long time which have never been resolved.
"I've no idea how much we owe them because I wasn't aware there was an issue. We were paying on standing order but apparently that stopped, and I don't know why.
"We probably do owe them some money but we haven't had any discussion on a payment method in the last six months."
Alan Jarratt, deputy leader of Medway Council, said: "The money owed is not a small figure, and it is public money provided by the taxpayer. It would not be right, or fair to taxpayers or those that pay their rent, to ignore this.
"It is a shame that it has come to this. The Gills is an important part of the community and we are keen to support our local team.
"We have tried as hard as we can to negotiate with the club and find a way through, but they have failed to talk to us.
"Now, as all our efforts have been ignored, we have to evict them from the ground."
Scally has reiterated Gillingham's commitment to training at Beechings Cross.
"We've got lots of plans for the training ground," he continued. "I've got a meeting arranged to talk about a long-term commitment to develop it further.
"We've put a lot of money into it and we maintain some of it ourselves, at our own cost."