SFL sets date for vote on Rangers
Last updated on .From the section Football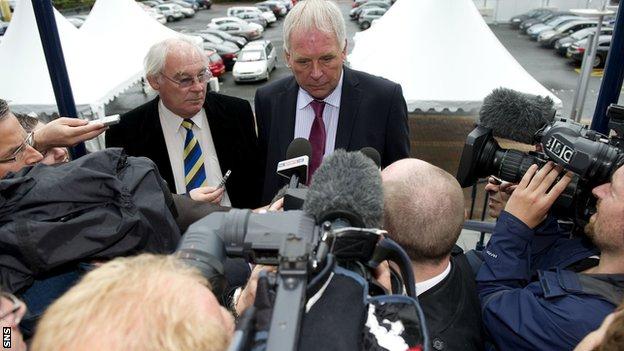 The 30 Scottish Football League clubs will meet again on 12 July to further discuss a Scottish FA proposal that would result in a Rangers newco playing in the First Division next season.
Tuesday's meeting at Hampden adjourned with no decisions made, although a vote is expected next time.
The newco is likely to apply to the SFL if Scottish Premier League clubs reject its top-flight application.
A "no" vote is expected when they 12 clubs meet on Wednesday.
An 8-4 majority is required to transfer Rangers' share in the league to Charles Green's new company and seven clubs have already gone public with their opposition to such a move.
BBC Scotland has learned that those attending the SFL meeting were advised that a simple majority vote would carry any motion put forward at the next gathering.
The SFL representatives at Hampden were addressed by SPL chief executive Neil Doncaster and his SFA equivalent, Stewart Regan.
And the plans put to them include a £1m payment from the SPL to the SFL for TV coverage of Rangers' matches.
Play-offs between the SPL and the First Division are also on the agenda, along with a fairer distribution of revenue, while a merger of the SPL and the SFL the season after next is also suggested.
The SFA document, seen by BBC Scotland on 28 June, recommends that Dundee, runners-up in Division One last season, should take up the SPL vacancy.
That would leave the lower divisions with a place to fill, with previous new entrants entering the senior leagues in Division Three, as Annan Atheltic did in 2008 following the demise of Gretna.
Falkirk, Raith Rovers and Morton have voiced their opposition to a Rangers newco joining them in Division One, while East Fife, Stranraer, Stirling Albion, Clyde and Peterhead have also gone public with their opposition.
Raith Rovers chairman Turnbull Hutton was scathing of the tone of the SFA document, which proposed the First Division newco option next to others including a second tier for the SPL.
"(We are being) bullied, rail-roaded, lied to," Hutton said on his arrival at Hampden.
"We have been threatened and bullied. It's not football as I know it.
"It was a ridiculous document that came out last week, whereby that threat was there if we don't vote for an acceptance into the First Division a breakaway SPL2 will come along and all those clubs that didn't vote won't be invited.
"What kind of a game are we running? Corrupt."
SFA chief executive Stewart Regan denied claims that he had told the meeting that his organisation would block any SPL entry by Rangers.
"Unfortunately, a comment relating to one potential scenario Rangers FC's readmission to the SPL was distorted, taken out of context and leaked to the media by a member," he said.
"For the avoidance of doubt, any decision regarding the future status of Rangers FC requires not only the transfer of the SPL share but the transfer of the Scottish FA's membership.
"The Scottish FA board will approve this only when all relevant information has been provided and the directors are satisfied that the solution presented is in the best interests of Scottish football."
SFL chief executive David Longmuir thinks his member clubs should view it as an opportunity.
"The magnitude of the situation and the effect of the crisis that we've found ourselves in, it really doesn't matter how the situation has arisen, it will have a massive impact on the future of the game," he said.
"I'm actually quite comfortable that the SFL are in a position to have a strong role in this because there's a lot of people in the SFL who are passionate about the game, including myself."
Dunfermline chairman John Yorkston said his club's view that Rangers should start again in Division Three had not changed.
However, Falkirk general manager David White, whose club had previously announced plans to reject First Division entry, admitted that the £16mclaim gave them food for thought.