Rangers chief Charles Green needs fans onside, says Hutchison
Last updated on .From the section Football
Don Hutchinson believes Charles Green needs to establish a closer link with Rangers fans.
Green became chief executive of the relaunched Rangers after his Sevco group bought the old club's assets.
Hutchinson played at Sheffield United when Green was chief executive at Bramall Lane.
"If I was him I'd try and appoint someone that's got an affiliation with Rangers and can be a link between him and the fans," said Hutchison.
"If he could try and get that link a little bit closer and the fans can trust him, I think he can do a decent job.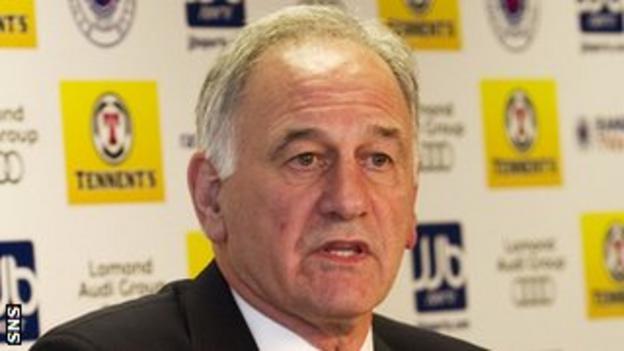 "I'm not so sure what Charles's incentives are but I think it's for the good of Rangers Football Club.
"It's going to be very hard for the Rangers fans to trust him because he's an outsider. He needs to get the fans onside now and appoint someone that can talk to the fans because he's a businessman.
"He's probably not going to be able to talk to the fans the way I could or an ex-Rangers player could.
"When Charles came in, he actually rescued Rangers. He came in and put his money where his mouth is. At a certain point, they have to trust Charles."
Green's Rangers do not know which league they will be playing in next season with an application to replace the old Ibrox side in the Scottish Premier League not gaining the required support.
Scottish Football League clubs will meet on Tuesday to discuss a proposal for Rangers to enter the First Division in time for next season - plans that have already met with opposition.
It remains possible the Third Division could be Rangers' destination
"As football fans, it's come to the time where Rangers just want whatever decision's going to be made to be made very quickly so they can take it on the chin and get on with it," added former Scotland forward Hutchison.
"It's a sad situtuation that Rangers are in."