PFA boss Gordon Taylor urges Portsmouth compromise
Last updated on .From the section Football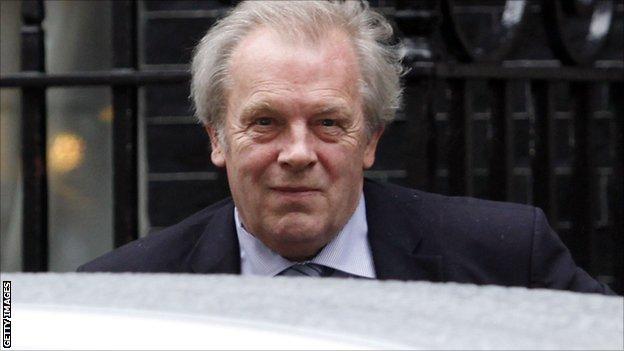 Professional Footballers' Association chief executive Gordon Taylor says Portsmouth's players must reach a compromise on wages to save the club.
Administrator Trevor Birch has previously stated the club will go into liquidation unless the top earners can be removed from the wage bill.
And Taylor says the players must be pragmatic in their expectations.
"A settlement of some money is better than a settlement of nothing at all," Taylor told BBC Radio Solent.
Pompey are currently £58m in debt after previous owners Convers Sports Initiatives went into administration.
League One Pompey are currently also in administration themselves and are searching for new owners, but the club's £12m wage bill is preventing any potential new owner from taking the club forward.
In June, former owner Balram Chainrai's Company Voluntary Arrangement proposal was accepted by creditors of the club.
The Hong Kong businessman formerly owned the club in 2010-11 and is personally owed about £19m.
But unless the club's players, both past and present, compromise on how much they are owed and paid, then Pompey could go out of business.
"We've got the future of the club to think of and the employment opportunities that brings - not just for players but for supporters and the club," said Taylor.
"It is not unlike a situation I had to deal with way back in 1980 when I was first in the job with the PFA. Bristol City went out of the top flight and had a lot of their players signed to 10-year contracts and financially they had a big problem as a result.
"Some players will need to leave the club but it is our job to make sure they have a satisfactory compromise agreement in place bearing in mind the money they have already deferred and the money they will lose in the future."
Taylor added: "The position of the PFA is to look after its members as best we can but bearing in mind we have to deal with reality, and the reality of the situation is the future of Portsmouth Football Club is a very serious situation.
"We don't want a situation where someone goes out of business and then everyone loses. From that extent, we have to talk to the players and bring home the reality to achieve a settlement."