John Hartson's Wales coaching role still under discussion
Last updated on .From the section Football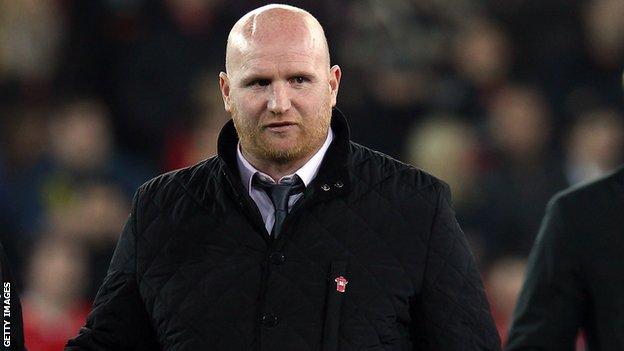 The Football Association of Wales (FAW) has said discussions with John Hartson over a potential role with national team are merely at "very early stage".
Hartson wrote in his column in the Scottish Sun he had accepted an offer to join Wales' coaching his staff.
But FAW chief executive Jonathan Ford said: "We haven't released any details because no details at this moment in time have been confirmed."
Hartson, 37, has been searching for an opportunity to start a coaching career.
The striker, whose former clubs include Celtic, Arsenal and West Ham United, was interviewed for the Wales manager's job in 2010 when Gary Speed was appointed.
He decided not to apply for the position again following Speed's death in November 2011.
Chris Coleman succeeded Speed, and Hartson has claimed his former Wales team-mate wants him on board in his backroom staff.
He wrote: "Chris simply asked me: 'Would you like to come and work for me?' I immediately accepted, shook his hand and promised him I'd do anything possible to help make the Wales national team successful.
"Everyone knows how much of a patriot I am. I speak our native language.
"So as a proud Swansea boy - just like Chris incidentally - to now be involved with the team is immensely satisfying.
"To be assisting Chris to effectively answer a call from my country is a fantastic privilege and honour for me.
"It's also why I'll be giving up my media duties to ensure I perform to the best of my ability."
Ford said conversations between Coleman and Hartson were on-going, adding he had no knowledge of the specific details of the potential role.
But Ford, speaking as the FAW opened the latest facility at the National Football Development Centre in Newport added: "John is a fantastic man, he's a great motivator and a very passionate person.
"I'm sure anything that he does for the teams will be a benefit to us."