Euro 2012 analysis: Sublime Spain sweep aside 'boring' tag
Last updated on .From the section Euro 201279
Spain were criticised for being "boring" at Euro 2012 but the newly crowned champions produced some of their best football of the tournament to beat Italy and Xavi was once again at the team's fulcrum.
Before the final, the 32-year-old Barcelona midfielder admitted he would have liked to have been "more decisive" in key matches of the tournament, and he produced an emphatic display by setting up two goals.
The pass that sent Jordi Alba clear for Spain's second dissected the Italian defence during a first half where Spain passed the ball with a tempo that was far superior to their previous games at Euro 2012.
It showed that despite recent reservations about Spanish coach Vicente del Bosque's decision to play with no recognised strikers, this team with so many stars such as Xavi, Andres Iniesta, Xabi Alonso, Sergio Ramos and Iker Casillas, can now be claimed to be the best ever.
Spain's victory in numbers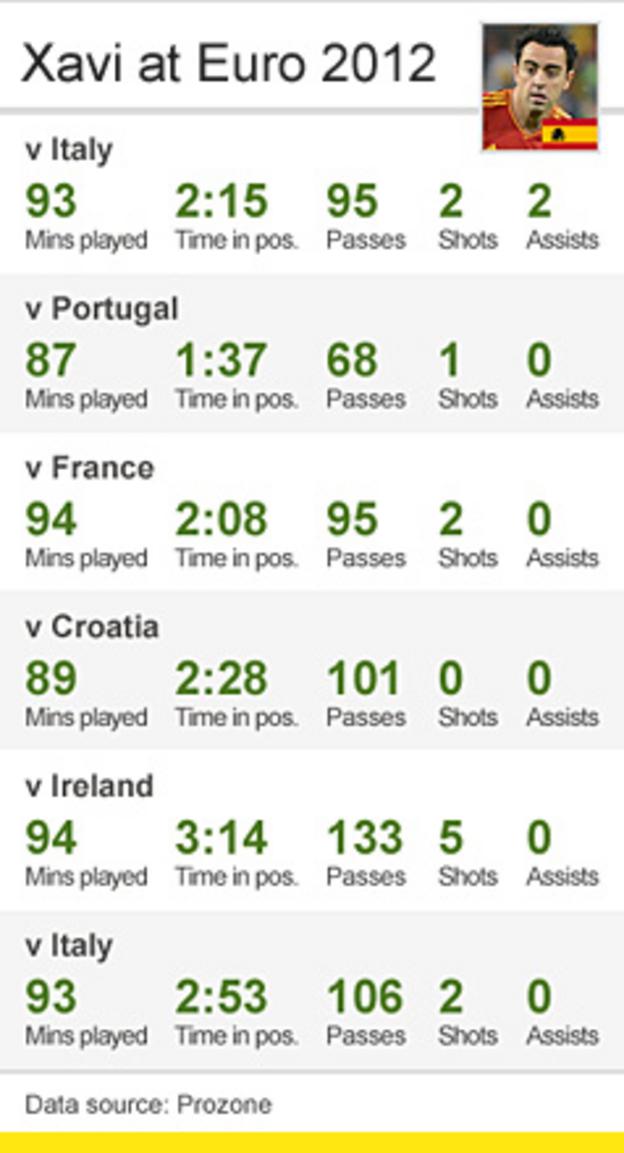 Spain are the first team in history to win three consecutive major tournaments

World and European champions Spain have had more possession than their opponents in 61 games since the final of Euro 2008

Xavi has assisted three goals at European Championships but they have come in the final each time. His first was to set up Fernando Torres in 2008 and he set up Jordi Alba and Fernando Torres against Italy

David Silva's opener for Spain was the 22nd headed goal of the tournament. The previous best at a European Championship was 17

The Manchester City midfielder was involved in the most goals of the tournament (two goals, three assists)

Spain averaged 681.6 passes per 90 minutes at Euro 2012, over 100 more than they did at the 2010 World Cup (588)

10 of the 16 shots on target Spain conceded at Euro 2012 were against Italy

Pirlo lost possession 18 times against Spain. Only against Croatia when Mario Mandzukic was chosen to close down the Italian, did he lose it more (20) at Euro 2012
Alan Hansen on Match of the Day: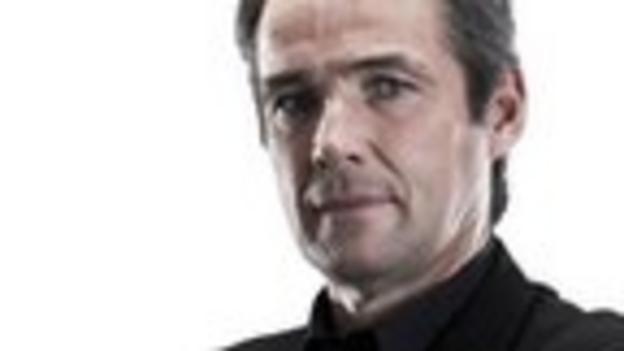 "People will talk about the first half of this game in 30 or 40 years' time. Before the game we said this Spanish team are arguably the best team ever, but there is no argument now.
"I don't think I've seen anything as good. They were picking the passes, making the angles and playing it with such pace. When they pass in that manner it doesn't really matter if they play with a striker or not.
"It is not only their technical ability, but also they work so hard. Look at Andrea Pirlo's performance, he has been a star in this tournament, but in the final he hardly had a kick. That was down to the pressing of the Spanish players.
"It was a privilege to be here to watch it and that's what every team has got to aspire to."
Gianluca Vialli on Match of the Day: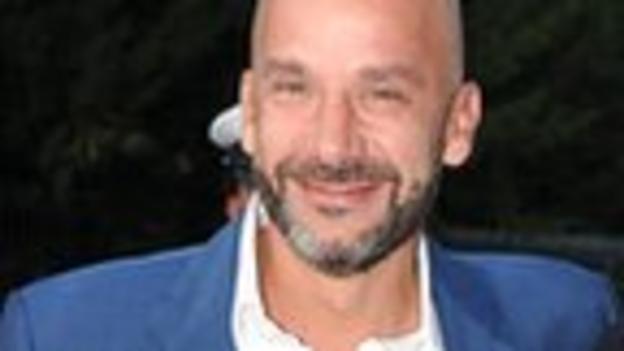 "This tournament has proved that Italy are the most improved side in Europe, but the final proved we are not there yet. Spain are in a league of their own. They have shown how truly magical they are.
"The astonishing thing about Spain is how much desire they have to keep winning. Italy faced a team that was too strong and there was too much tiredness too.
"Pirlo is 33, and playing five or six games in such a short space of time is not easy. That's why Xavi has been taken off a few times by Spain coach Vicente del Bosque, so he can be fresh for the final."
Alan Shearer on Match of the Day: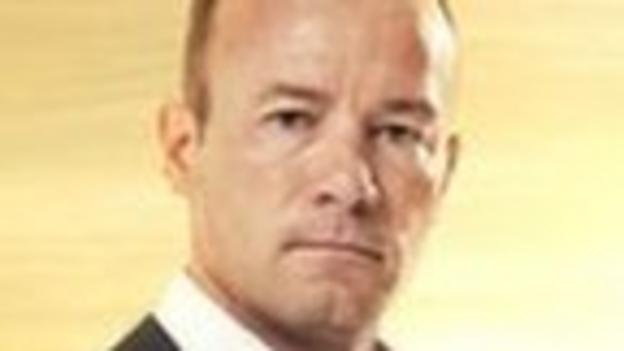 "People have asked questions of Spain because of their system of not playing a recognised striker, wondering if they would score enough goals.
"But they have scored more goals and conceded less than any other team. It was a dream to watch and a nightmare to play against because there are no answers.
"As soon as Italy went down to 10 men, you could see Fernando Torres was itching to get on because he knew there would be chances.
"In a strange way it has probably been a frustrating tournament for him because he has only played a bit-part. But when he's been asked to do a job he's scored goals and played well."
What they said about Spain's victory:
"Today I have been decisive. I was lacking that deep, incisive pass, and today I had two." - Spain midfielder Xavi
"Are we boring? People who think we play boring, I don't think they understand the game." - Spain midfielder Cesc Fabregas
"To win three titles is almost impossible. Congratulations to the players. I didn't really want to be the coach who wins but the coach who educates. I want to keep preparing them for the future." - Spain coach Vicente del Bosque
"Tonight, there was no contest, they were too superior - so the bitterness at losing this final is only relative. It was a great adventure." - Italy goalkeeper Gianluigi Buffon
"We have to savour this victory. It's unique, it's magical; something that can't be repeated. I think we still haven't absorbed how great this is." - Spain midfielder Andres Iniesta
"We came up against a terrific side. They're world champions. Obviously, when you go down to 10 men, the game's over." - Italy coach Cesare Prandelli
"As predicted, Spain are playing a different ball game to the rest." - Former England striker Michael Owen on Twitter
Give your views on Spain's performance on Twitter at #bbcfootball