Saintfiet rejects Nigeria claims over technical role
Last updated on .From the section Football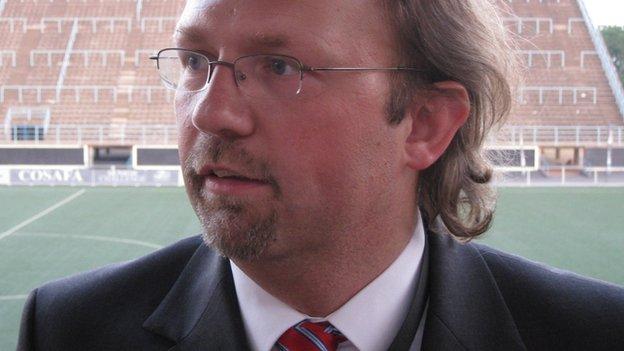 Belgian coach Tom Saintfiet has rejected claims by the head of the Nigeria Football Federation (NFF) that there was no agreement to appoint him as the country's Technical Director.
Saintfiet admits there was no signed contract but said he had a verbal agreement to take on the role.
"I thought you can trust people if you make deals," Saintfiet told the BBC.
The NFF announced the appointment in March but rescinded it after pressure from the country's government.
Saintfiet revealed that he has had no contact from the NFF - instead learning of their about-turn through the media.
"I have never had any offical communication from the Federation that I am not wanted - until now, no-one from the NFF ever informed me personally," he said.
Saintfiet also denied claims by NFF President Aminu Maigari that he had threatened to go to Fifa and that he had gone to the media to make his case.
"I never told anyone that I intended to go to Fifa - I only said that it was in the hands of my lawyers," he said.
"Once the minister announced I wouldn't be the Technical Director, the media contacted me and naturally I spoke with them - but I never made first contact with any person in the media."
Saintfiet said he had turned down other job offers following the announcement of his appointment by the NFF.
"I said no because I had that agreement with the NFF, and for me a deal is a deal - and I respect the deals I make," he said.
The Nigerian sports minister, Bolaji Abdullahi, had directed the Federation to appoint a local coach to the role - but so far no-one has been given the job.