Rangers: Charles Green gives SFA details for membership bid

By Alasdair Lamont
BBC Scotland
Last updated on .From the section Football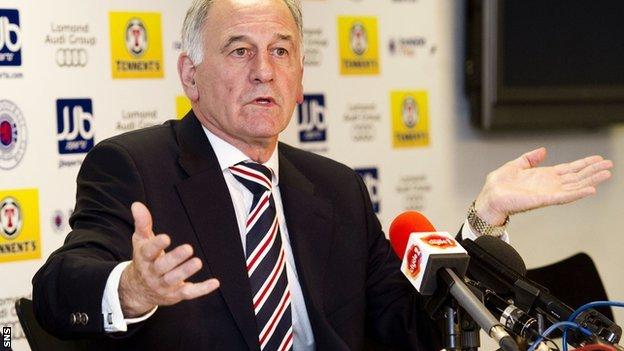 Charles Green's Sevco consortium has lodged documents with the Scottish Football Association to support its bid for "newco" Rangers' membership.
The SFA requested further information on Green's plans after he submitted an application last Friday.
"We have received an information pack from Sevco Scotland relevant to their membership application," said the SFA.
The Association requires details of the company, requirements on fit and proper officials, and plans for the club.
Meanwhile, Green has hinted he and his Rangers newco would accept proposed conditions to win SFA membership.
Under plans revealed by BBC Scotland on Thursday, Rangers would go straight into Scottish Division One.
But they would have to accept the football debts and fines of the old Rangers and make no legal challenges.
Green says that "nothing in this world is free".
An application by Green for his newco to replace the old Rangers in the Scottish Premier League did not gain the support of top flight clubs and it was expected the club's next port of call would be applying to enter the Scottish Football League in Division Three.
But senior Scottish football figures are proposing that Rangers start next season in the second, rather than the fourth, tier.
Asked for his views on the proposals, the Rangers chief executive responded: "Did you refuse to pay the price of membership of your golf club?
"My opinion upon right or wrong doesn't matter.
"We will continue to work to ensure Rangers play football next season and that we can look everyone in the eye."
Meanwhile, Green has echoed chairman Malcolm Murray's call for unity at the club.
Murray issued a statement calling for for an end to "the vicious and gratuitous blood lust" among those vying to control Rangers' destiny.
Former Rangers player John Brown this week announced he was leading a group looking to buy the club and encouraged fans to invest in his consortium rather than buying season tickets.
"It's not right that a proportion of Rangers fans continue to attack my consortium and try to undermine our rescue plans," added Green.
"It's not right that every two weeks a Mel Gibson appears, delivers a Braveheart statement, then doesn't deliver anything."