Champions League: Glasgow given tough qualifying group
Last updated on .From the section Football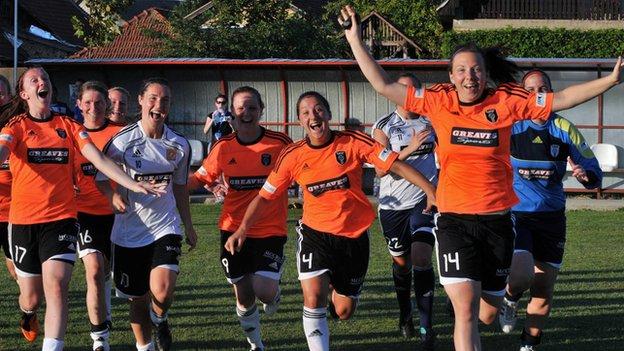 Glasgow City have been given a tough qualifying group as they aim to repeat last season's feat of reaching the Women's Champions League round of 16.
They have been drawn in Group 8, which will be hosted by Finnish outfit Vantaa and features another up-and-coming side, Osijek of Croatia.
The group is completed by Moldovan newcomers Noroc Mimoreni.
Glasgow assistant coach Donald Jennow said: "In truth, I don't think we could have had a much tougher draw."
Welsh champions Cardiff Met and Ireland's Peamount United were both drawn along with ASA Tel-Aviv of Israel and SFK 2000 Sarajevo, who will host Group 5 in Bosnia and Herzegovina.
Northern Irish champions Glentoran Belfast United are in Group 3 along with Portugal's Dezembro, Romania's Olimpia Cluj-Napoca and Maltese hosts Birkirkara.
The qualifying round consists of eight groups of four teams, with the mini-tournaments being played from 11-16 August and the group winners and two best runners-up progressing to the round of 32.
Vantaa and Osijek both progressed from the qualifying round last year and their Glasgow opponents believe they are two of the strongest sides in the group stage.
"Newcomers Nimoreni are an unknown quantity and both PK Vantaa and Osijek qualified for the knockout stages of last season's competition, which means at a minimum one of the three of us will have to miss out this year," said Jennow.
"Playing in Finland at least will be more what the players are used to in terms of climate, certainly compared to the heat in Serbia, which we faced at the same stage last year.
"Last year's competition saw us reach the last 16 of the tournament, an achievement of which we are extremely proud.
"It served as proof of the progress we have made, but our ambition does not end there."
Glasgow, who were seeded in the draw, reached the mid-season break again leading the Scottish Premier League and have also reached the third round of the Scottish Cup as they continue to dominate domestic football.
They lost 17-0 on aggregate to German side Potsdam in the last 16 last year.
Champions League qualifying round
Group 1: Zürich Frauen (Switzerland), Gintra Universitetas (Lithuania), Pomurje (Slovenia)*, Ataşehir Belediyespor (Turkey)
Group 2: NSA (Bulgaria), BIIK (Kazakstan), ŽFK Spartak (Serbia)*, Pärnu Jalgpalliklubi (Estonia)
Group 3: Dezembro (Portugal), Olimpia Cluj-Napoca (Romania), Glentoran Belfast United (Northern Ireland), Birkirkara (Malta)*
Group 4: Unia Racibórz (Poland), Bobruchanka (Belarus), Slovan Bratislava (Slovakia)*, Ekonomist (Montenegro)
Group 5: SFK 2000 Sarajevo (Bosnia and Herzegovina)*, ASA Tel-Aviv (Israel), Peamount United (Ireland), Cardiff Met (Wales)
Group 6: Apollon (Cyprus)*, Kharkiv (Ukraine), KÍ Klaksvík (Faroe Islands), Ada Velipoje (Albania)
Group 7: PAOK (Greece), MTK Hungária FC (Hungary), Nase Taksi-SNT 2010 (Macedonia)*, Skonto (Latvia)
Group 8: Glasgow City (Scotland), PK-35 Vantaa (Finland)*, Osijek (Croatia), Noroc Nimoreni (Moldova)