Guernsey's Steve Ogier: Gibraltar favourites for Shield event
Last updated on .From the section Football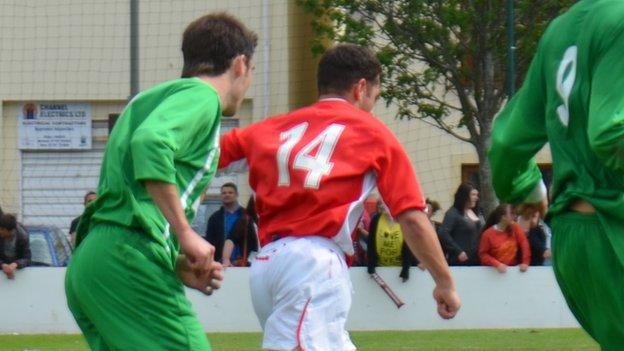 Guernsey and Jersey will be the weakest teams in the International Shield tournament in Gibraltar, according to Guernsey coach Steve Ogier.
The two sides face each other on Thursday, with the winners playing the hosts or the Isle of Man in the final.
Both Jersey and Guernsey have selected development sides for the event.
"Jersey and ourselves will be evenly matched but you've got to look at Gibraltar and the Isle of Man being the strongest teams out there," Ogier said.
"We know Gibraltar will be the favourites, they'll be strong and have everyone to choose from on their home patch.
"I understand the Isle of man are taking a strong side as well," he told BBC Guernsey.
Ogier, who runs the Guernsey academy and is taking charge of the side in the absence of manager Kevin Graham, believes it is important his young squad are exposed to tournament football.
With the island now having a club playing in the English league system, he says it is less likely that Guernsey will be able to send its top players to future Island games tournaments.
"With it being a development squad, it's important how the players handle themselves during the tournament.
"We'll see how they manage themselves and how they react within the game as well.
"With the inclusion of Guernsey FC it seems that in future Island Games some of the first team players probably won't be available for Island Games with the amount of football they'll be playing through the season," he added.
"In an island games year it's going to be too much for them, we would look at this current crop as being the guys who may play in Jersey 2015.
"It gives them a taste of what they need to do for a tournament and what it's like in a camp and playing at a tournament."