Rangers: John Brown wants fans to buy club from Charles Green
Last updated on .From the section Football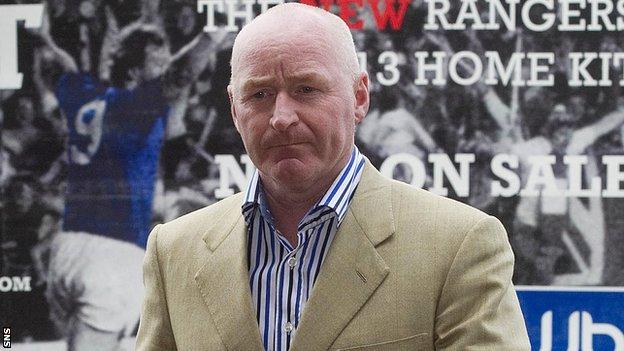 Former Rangers player John Brown aims to lead a group to buy the relaunched club on behalf of supporters.
And Brown, who recently resigned as a Rangers scout, has questioned whether Charles Green holds the title deeds to Ibrox Stadium and Murray Park.
Green fronted a group that bought the club's assets after Rangers FC plc could not be saved from liquidation.
"We want him to name his price, show us that he owns it and we'll sit down and see what we can do," said Brown.
"If Charles Green's got nothing to hide, he will show us his name on the title deeds. If he is [the deed-holder], then fans will probably buy their season books.
"We don't want to buy in with Charles Green. The Rangers fans are going to buy out Charles Green's consortium.
"The fans will own their own club. There won't be a David Murray, a Craig Whyte or a Charles Green. No individual will have control.
"The fans will find the resources to fund it. We have investors, it's enough to take over this club. There's nobody going to be running away with fortunes."
Housebuilders and property developers Allan Stewart and Stephen McKenna said last week that they planned to bid about £11m for the club.
McKenna has now told BBC Scotland he had an £8.7m bid rejected on Monday but insisted that he is not involved with the new group now being fronted by Brown.
Brown, who played for Rangers between 1988 and 1997, has urged supporters not to buy season tickets and instead invest in his group, who will secure the funds for a planned buy-out.
And the 50-year-old wants former Rangers vice-chairman and current Cowdenbeath chairman Donald Findlay QC to assess the title deeds issue.
"We've had two bids from a previous consortium knocked back and Charles Green says he's looking for investment," Brown told BBC Scotland.
"Our second bid got knocked back with a phonecall from their lawyers on Sunday evening, an offer of £8.7m, yet no phonecall to say 'come in to the table and let's talk about it'.
"I was called to a meeting with Charles Green on Friday afternoon and he said a few things that alarmed me, I'm not going to go public with that just now.
"I'm going to give him a chance to show us who owns the title deeds and whose name's on Ibrox Stadium and Murray Park. That's all that matters.
"It's not just me, before this came out, Rangers fans were refusing to buy their season books because they're not sure.
"He [Green] has no source of revenue, the fans are not putting money in."
Meanwhile, former Rangers goalkeeper Andy Goram has backed Brown's plans.
"He's got all the backing he wants from great Rangers men," said Goram.
"He's got financial backing from all over the world; Hong Kong, America, Australia. So, everything's in place."