Euro 2012: Raymond Domenech criticises France national team
Last updated on .From the section Euro 2012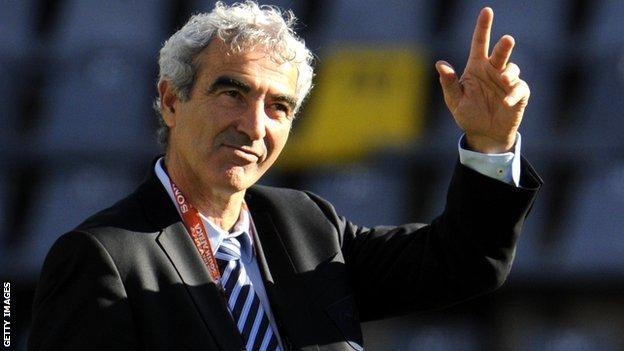 Former France coach Raymond Domenech, whose 2010 World Cup campaign was undermined by infighting, says his country's Euro 2012 performance was "inexcusable".
Midfielder Samir Nasri was involved in an angry exchange with a journalist amid reports of player unrest.
Domenech commented: "[Euro 2012] showed the full extent of our weaknesses."
The 60-year-old oversaw a disastrous campaign in South Africa two years ago in which striker Nicolas Anelka was banned from the camp for insulting Domenech, the players revolted and refused to train and France finished bottom of their group.
The head of the French Football Federation subsequelty resigned and Domenech was replaced by former captain Laurent Blanc.
Blanc led his side on a 20-game unbeaten run leading into Euro 2012 and it seemed he had healed the wounds in the French camp, but a player row after the 2-0 defeat by Sweden is thought to have undermined preparations for the Spain match.
Domenech told French newspaper Ouest-France: "A major tournament reveals the strength of a group, a generation.
"The most glaring [weakness is] their inability to see anything other than their navel."
Blanc was publicly critical of Nasri's behaviour towards the media after the Spain match, saying of the 25-year-old: "He lacked respect towards the journalist... It is very, very bad for his image but when this is done when he's with France it's also bad for the team's image."
Domenech highlighted other issues within the squad.
"Nasri has been the visible symbol," he added. "Karim Benzema... requires support in the penalty area. For France, he is alone. He wanted to be the saviour - it was mission impossible.
"The case of Franck Ribery is symptomatic of the mood. Franck has been affected by his desire to live up to his image."
Domenech concluded that at Euro 2012 the French team were devoid of leadership on the pitch and performed below expectations.
"The leaders have disappeared," he said. "Patrice Evra [the France captain who played in just one group game] remained on the bench. Florent Malouda, spokesman for the team, finished the Euros without further impact... in the field.
"There were those that were expected [to perform]. They disappointed, and others who have had no reaction, which is equally inexcusable."