Raith and Falkirk oppose Rangers newco First Division move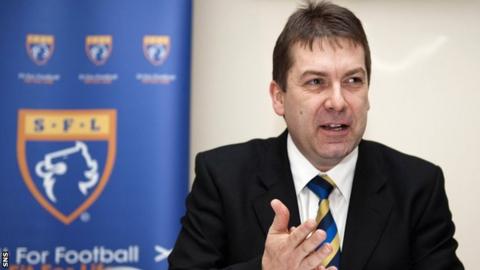 Raith Rovers will oppose Charles Green's "newco" Rangers being admitted to the Scottish First Division.
And their league rivals Falkirk have said Rangers playing in Division One would be unfair "under current rules".
Rangers are seeking a league to play in now that it appears certain their bid to play in the Scottish Premier League will be rejected on 4 July.
The Scottish Football League board met on Tuesday to discuss proposals, including Rangers' entry to its set-up.
A merger between the SFL and Scottish Premier League, a one-off payment from the SPL and a promotion play-off from the First Division are on the agenda.
However, it is the idea of Rangers taking a place in the First Division rather than the Third Division that is likely to provoke most debate.
Rangers owner Charles Green had originally moved to transfer their share in the SPL to the newco club.
The support of eight of the 12 SPL clubs was needed, but six have publicly stated their opposition to the plan and entry to the SFL might prove to be a more likely option.
SFL chief executive David Longmuir said: "The three governing bodies will continue to work together during the coming days to deliver a way forward which will be in the best interests of the game in Scotland.
"Key to that process will be a full consultation with our clubs, which will take place very early next week.
"It was a positive meeting. We didn't rule anything out and we didn't rule anything in.
"We're working with as much pace and urgency as we can possibly do at the moment, although I understand the need for clarity."
If the board accepts the proposals then a vote of all clubs would be required.
An emergency meeting could be called with five days' notice and a vote to allow a newco entry would require a 75% majority, or 22 clubs out of 29, to succeed.
But a statement from Rovers voiced their opposition to such a move.
"The board of directors of Raith Rovers FC is unanimous in its view that we shall certainly not cast our vote in favour of any integrated plan that in our view compromises sporting integrity by involving the admission of any 'Newco' directly into Division One," it said.
An earlier statement from Falkirk chairman Martin Richie read: "Under current rules, it would be totally unacceptable if a Rangers Newco was admitted to the First Division.''
''Even a weakened Rangers would have resources that far outstripped all other First Division clubs and this would pretty much guarantee them promotion before the season even starts,'' it added.
The SFL is currently made up of three divisions of 10 teams, with the winners of the First Division promoted to the SPL.
Dundee, who finished second to Ross County in last season's competition, could be promoted to Scotland's top flight.
However, Dunfermline, who were relegated in May, believe they should be reinstated to the SPL.
"We fully expect to be the team in the SPL next season," Dunfermline chairman John Yorkston told BBC Scotland.
However, it is unclear whether the SFL could hold an egm until a club leaves the league, creating a vacancy.
The clubs would also have to vote to change the rules of the SFL to allow Rangers to enter the First Division.
At the moment, new clubs are invited by the SFL to apply for a place in the Third Division.