Graham Westley expects more transfer activity at Preston
Last updated on .From the section Football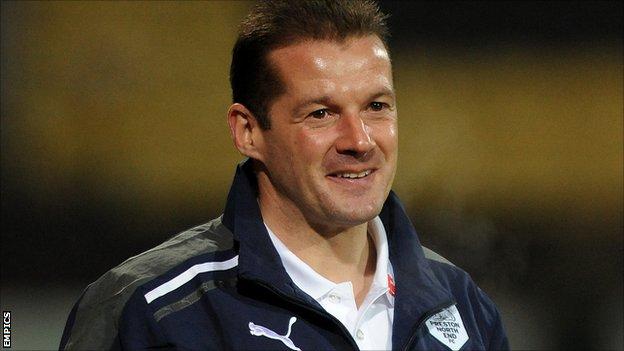 Graham Westley has not finished rebuilding his Preston squad, despite a massive overhaul during the summer.
Defender Brian McLean has already left to join Dundee United, while 12 new players will officially complete moves to Deepdale on 1 July.
"I'm expecting to see lads go and as lads go, there will be more additions," Westley told BBC Radio Lancashire.
"Clubs are starting to think about getting back to pre-season training and this is when a lot of clubs start to do their work. Movement starts to happen.
"When you've got contracted players, clubs quite often aren't in a hurry to bring them through the door while there's no games to play."
Westley was critical of some players within the squad he inherited when becoming Preston manager in January and promised significant changes after finishing 15th in League One.
Among the new arrivals are England international goalkeeper Richard Wright, ex-Tranmere captain John Welsh and former Yeovil skipper Paul Huntington.
And Westley believes he is putting together a balanced squad that will make Preston a more competitive side in the third tier next season.
"There are all sorts of skills coming in," said the former Stevenage boss. "We didn't have a left-footer, other than Paul Parry, last season. We've now got four left-sided players that have walked through the door already.
"We've got balance and great experience in the squad. There are all sorts of ingredients that you need.
"If you were to talk to people around League One and people who know the level, most people are looking at Preston and believing that we're making a lot of the right moves.
"They know the stature of the club, the way the facilities are and the mentality we're building here."