Craig Bellamy has 'unfinished business' at Cardiff - Iwan Roberts
Last updated on .From the section Football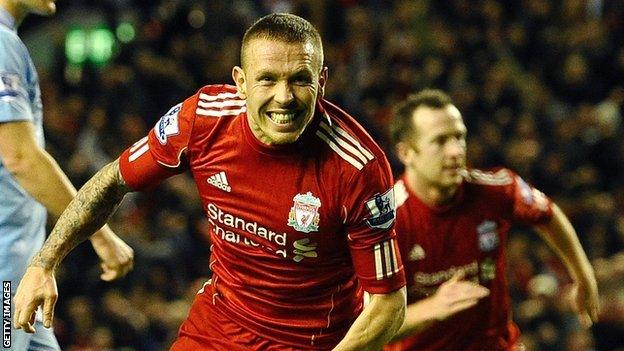 Iwan Roberts has said former Norwich City team-mate Craig Bellamy has "unfinished business" at Cardiff City.
Roberts played alongside Bellamy and Cardiff boss Malky Mackay at Norwich and believes his fellow Welshman would relish a return to south Wales.
"I think there's no one better to know what Craig brings to the table than Malky," said Roberts.
"[Malky] played with Craig for a couple of years. They were good friends but they did fall out as well as players tend to do, especially in training.
"But Malky knows what Craig brings.
"He knows his strengths, he knows he can put demands on other players and get the best out of other players around him.
"Malky knows he's a leader and he's a player that wants to win things.
"If Malky can lure him away from Liverpool down to Cardiff I think it would be an absolute tremendous signing."
Bellamy, 32, began his career with Norwich City and established professionals Mackay and Roberts were among his Carrow Road team-mates.
Roberts, who was also played alongside Bellamy for Wales, says the Liverpool striker has great respect for Mackay.
"Craig knew Malky had great experience at Celtic, a massive club. He had major respect for what he had achieved in the game," added Roberts.
"He knew Malky was an intelligent man football-wise.
"You could tell [in the] early stages that Malky was going to go on and become a very good coach. I think Craig liked that in Malky.
"If they can lure Craig away from Liverpool it would be a tremendous signing for Cardiff City and a sign of things to come I'm sure.
Cardiff are understood to be working out the finances to re-sign Bellamy, who was captain during his season long loan spell.
Bellamy rejoined Liverpool on a two-year deal from Manchester City in August 2011.
The Championship club hope to discuss a proposed deal with Liverpool before any talks take place with the former Wales captain.
And Roberts believes Bellamy would welcome the opportunity to return to his hometown club.
"Craig's always said that one day he'd like to end his career at Cardiff. He's still based in and around the Vale of Glamorgan," said Roberts.
"He probably thinks he's got unfinished business at the club after the season's loan he had.
"It finished on a disappointing note for himself, getting injured in the first leg of the play-off semi-final against Reading.
"And of course Cardiff were knocked out in that two-legged affair.
"I think he would love to come back and maybe finish that chapter off with helping Cardiff win promotion."