Rangers newco issue brings Motherwell administration concern
Last updated on .From the section Football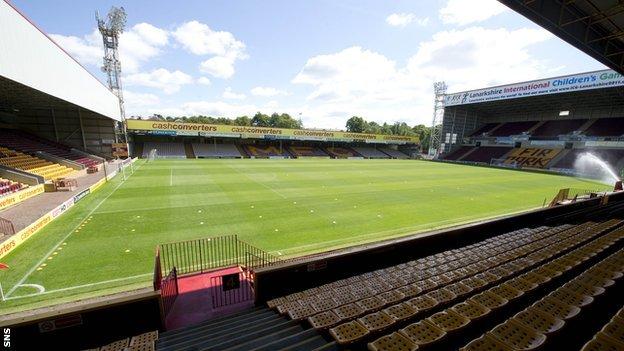 Motherwell say they could face administration if they cannot "replace significant amounts of income" once the status of the Rangers newco is decided.
Scottish Premier League clubs will vote on whether Charles Green's newco should replace the old Rangers in the league.
The Fir Park club expect to lose money regardless of the outcome of the vote.
"The club could be facing an insolvency event," fans were told as they were on the newco issue on 4 July.
"Following new rules recently introduced at [the] SPL, this would lead to a 21 point deduction, being one third of last year's total.
"The board is of the view that whatever decision is made on the newco vote by the SPL clubs, the financial position of Motherwell Football Club will suffer.
"On a purely financial basis, a 'Yes' vote would likely preserve commercial revenues, however the impact on gate receipts is unclear.
"The risks presented by a 'No' vote are slightly easier to quantify insofar as gate receipts are concerned, but even then are extremely uncertain given we do not yet know what the SPL commercial partners will decide.
"There are clear risks to the financial stability and very future of this club presented by the current situation."
The 'guidance document' which accompanied a ballot paper sent to fans also indicates that prices and attendances may need to be increased should the club face "serious financial difficulty".
Though they point out that "all clubs look likely to be reducing their headcount and costs" Motherwell do not expect the issue to have a "net impact" on player trading, adding that they will "consider competitive offers for our players if it is in the interests of all".
Should Rangers not feature in the SPL next season, Motherwell estimate they could lose £600,000 from broadcasting income and a further £315,000 from ticket sales and hospitality.
There are no stated estimates of what financial consequences would be associated with Rangers being in the league but the club say they may experience "a significant loss of income from fans of other clubs and our own depending on the general view of the 'integrity' of the game".
Green's consortium bought Rangers FC plc's assets after the administration-hit company failed to gain support for a company voluntary arrangement and headed towards liquidation.
Motherwell, who finished third in the SPL last season and gained a place in the Champions League qualifiers due to second-place Rangers' ineligibility for Europe, went in and out of administration between 2002 and 2005 with a reduction in attendances and television income catalysts for the financial difficulty.