Euro 2012: Cristiano Ronaldo says 'mature' Portugal ready to fight
Last updated on .From the section Euro 2012
Cristiano Ronaldo says Portugal are 'ready to fight' for a place in the final of Euro 2012.
He said: "Our great aim is to get to the final. We have a great squad and now I'd say the chances are 50-50 and we just have to believe.
"We are very mature, so we are ready for the fight."
Ronaldo followed up his superb performance against Netherlands in the final group game with another dominant showing, hitting the post in each half before breaking the deadlock with a powerful header.
"I think it was a fantastic game for Portugal," the Real Madrid forward said.
"In the first 20 minutes we weren't that good but we improved a lot. It was a perfect game for us, with a lot of opportunities. The Czechs didn't have one opportunity.
"We always had the quality to reach the semi-finals. We are happy but know the next match will be difficult but the team is very mature and we are ready."
Portugal coach Paulo Bento agreed that his side grew into the game against disciplined opposition and deserved their place in the semi-finals.
"We showed a great response in the second half, a great capacity to respond to the Czechs and that is why we really deserved this victory," he said.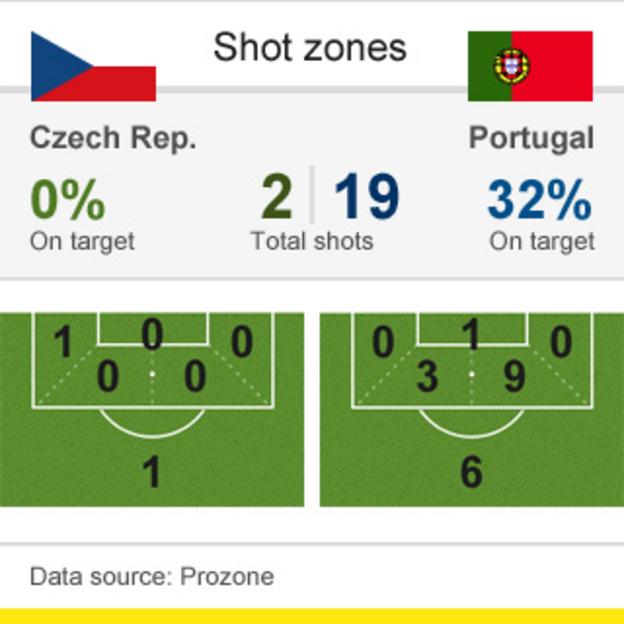 "We had prepared ourselves in the best possible way for their strategy. We knew they would try to defend very deeply and would press against us on the counter-attack, because they have very quick players who are good technically.
"All the players have tasks on the pitch, and Ronaldo played to our tactical system.
"He has the capacity to play in the penalty area, but also a little deeper."
The Portuguese will now come up against either defending champions Spain, who knocked them out of the last World Cup, or France, who eliminated them at the semi-final stage of Euro 2000.
Bento - who was banned for five months for dissent after the contentious defeat by France - has no preference which side he takes on in Donetsk on Wednesday 27 June.
"In the semi-finals of a tournament like this, there are always great teams with different characteristics who are well organised with players of great quality," he said.
"It has been a lot of work by us to reach the semi-finals and we will try to recover to reach the pitch in the best condition.
"Our aim will be to win against France or Spain. There cannot be any other goal for us."