Rangers newco will not get Aberdeen, Dundee Utd or Hearts votes
Last updated on .From the section Football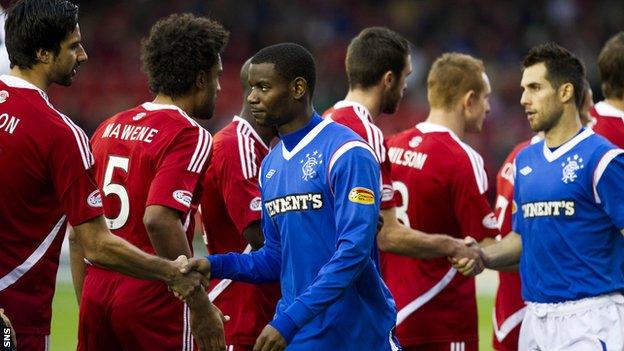 Aberdeen plan to vote against a Rangers 'newco' being admitted to the Scottish Premier League, bringing the number of clubs in opposition to three.
Dundee United and Hearts went public with their views on Thursday.
And the Dons have told BBC Scotland that maintaining the integrity of the competition is behind their decision.
Charles Green's consortium, needs the support of seven rival clubs when the SPL vote on the issue.
Other clubs have yet to go public with their intentions.
Should Green's group not get the required 8-4 vote in their favour for top flight football, they would have to apply to fill the vacancy that would be created by a team being promoted from the Scottish Football League.
An Aberdeen spokesman told BBC Scotland: "The consequences of not voting no would be overwhelming from a supporters' perspective.
"There is now an avalanche in terms of fans' feeling here."
However, the Pittodrie club has not made an official announcement and chairman Stewart Milne said they had yet to reach a final decision.
"This is a critical decision which will have major implications for all clubs and the future of Scottish football," said Milne. "The views of our fans and the issue of sporting integrity will clearly be a major influencing factor in our decision-making."
Hearts owner Vladimir Romanov said "the football mafia represented by Rangers' former owners" should not gain entry.
And United say they "cannot vote the newco into the SPL".
Tannadice chairman Stephen Thompson met fans' representatives after being inundated with correspondence telling him supporters would not renew season tickets if he voted a Rangers newco into the top flight. Current sales have dropped by around 2,600 on the same period last year.
Following the meeting, a United spokesman said: "The club's position on how we will vote was substantiated by the viewpoint of the various supporters groups.
"The board of directors of Dundee United are unequivocal in the belief that a form of sporting punishment must form part of the reasoning behind any decision made and, therefore, cannot vote the newco into the SPL.
"General sporting integrity and, more importantly, the integrity of Scottish football must also play a significant part in the decision making process.
"It is our belief that any form of sporting punishment must be unambiguous in the message it displays.
"The board of directors will act in the best interest of Dundee United and our supporters and Scottish football on this matter."
Earlier, in a lengthy statement on the Hearts website, Romanov expressed "deepest condolences'" to Rangers supporters "who have been lied to for so many years".
"It had to happen sooner or later," he said.
"Victories were achieved not by sporting merits, but through slander, conspiracies amongst players and their poaching via third parties, unfair pressuring of referees, who in themselves are as valuable to the fabric of football as the football stars themselves.
"All of this brought hollow victories and destroyed football.
"There is a saying about digging a grave for someone: you get it for yourself.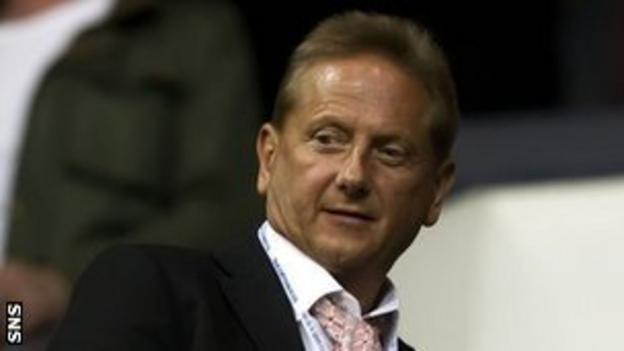 "Without these people football will become cleaner and stronger.
"Supporters deserved a new beginning and have to accept the fact that their club has to start from the lower league, keeping order in the SPL and without creating unfair competition with other clubs."
Hibernian chairman Rod Petrie previously made it clear that commercial concerns were of secondary importance in relation to the integrity of the league.
Motherwell will ballot supporters on how the Fir Park club should vote on Rangers' application, other clubs will also consult fans while Kilmarnock have expressed concern about the financial implications of an SPL without the Ibrox side.
Rangers Football Club plc entered administration in February over unpaid tax.
Revenue and Customs' vote against a company voluntary arrangement proposal prompted the transfer of assets to Green's group and their attempts to replace the old Rangers in the SPL.