Sam Cochrane named Guernsey FC Player of the Year
Last updated on .From the section Football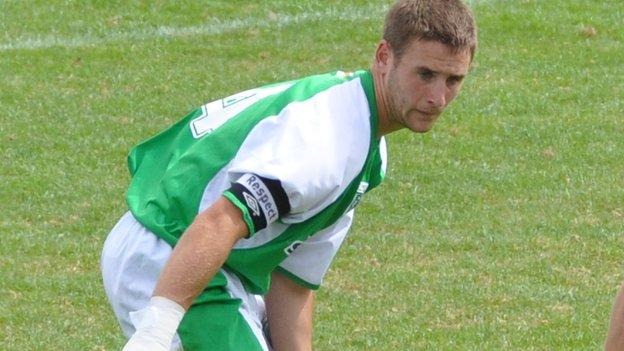 Guernsey FC captain Sam Cochrane has been named the club's first ever Player of the Year.
The 26-year-old centre-back beat off competition from top-scorer Ross Allen and reserve goalkeeper Paul de Garis for the award from boss Tony Vance.
Midfielder Dominic Heaume was named Player's Player of the Year while fellow midfielder Ryan-Zico Black got the supporters' award.
"I'm honoured, I never expected any individual award," Cochrane said.
"I play my role as captain and I lift the trophies but I lift them on behalf of everyone in the team.
"I was shocked and didn't expect it," he continued to BBC Guernsey, "but I'm obviously doing what they want of me and I need to carry on doing that because things are going to get harder and everyone knows that."
Guernsey FC's first season in an English league could not have gone better as they cruised to the Combined Counties League Division One title and won the league's Premier Cup.
But Cochrane says the move to the Premier Division of the Combined Counties League will present the club with a bigger challenge.
"Things are going to be tough, but everyone knows that, this is the reality of Guernsey FC.
"We've won two trophies, but next year odds are we could win nothing.
"We're in here to improve ourselves, move Guernsey football forward and ultimately it's going to get hard, but I believe we can cope with that.
"We'd like to get promoted, but I'm not sure if that's too much of an ask, we'll have to wait and see."
And Cochrane paid particular tribute to manager Tony Vance, who has coached him since he was a 16-year-old.
"He's been a huge guidance in my football career so far and I'd like to think I'd be playing a few more years for sure.
"As captain of the side I have to go to him with issues I have, problems with within the squad, and very rarely he does ask my opinion.
"We have a good relationship and I have so much respect for Tony Vance words can't describe that.
"He has moulded me into a player and a captain for him, as Colin Falliaze has as well, and to win an award from Tony Vance is something that makes me absolutely honoured."