Rangers: 'Make right financial choice' urges Charles Green
Last updated on .From the section Football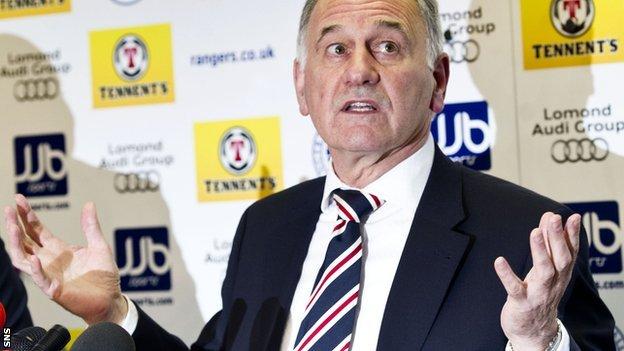 Rangers chief executive Charles Green believes Scottish football should do "what is right financially" as the club await a vote on their future status.
Scottish Premier League clubs will decide on 4 July whether Green's 'newco' Rangers can replace the old club in the top flight.
Green's group will get a vote and Rangers need the support of seven other clubs to gain an SPL place.
"There is no easy solution," Green told the Rangers website.
"It's something we all have to deal with, we all have to take responsibility for and we all have to come up with something that works not just for an individual club but for the whole collective.
"We've always said that we bought the club because we want to play a team in Europe, we want to rebuild the image of this club and everybody wants to play in the Premier League.
"Whether that can happen is out of my control. It's in the hands of the other members of that league."
Should Green not get the necessary support, Rangers would have to apply to the Scottish Football League for the vacancy that would arise in Division Three after various clubs are moved up a division.
Fans of SPL clubs have expressed a desire to see Rangers' application turned down on grounds of sporting integrity, but club chairmen may also be influenced by the potential financial implications of the Ibrox side's absence from the top division.
"My emails are blocked at the moment with fans thanking me for saving their club but making it very clear that Rangers fans will unite whether we play in the SPL the First Division or the Third Division," said Green.
"I know that Rangers fans will not desert this club. But it's important, not just for Rangers but for the whole of Scottish football, because the financial implications for the whole of Scotland, not just for SPL clubs, is a massive, massive problem to face up to.
"I think some of the views we see and some of the comments are not based on business and, of course, the criticism I regularly get burdened with is, for me, every decision is about business.
"It's not about passion, it's not about commitment to a cause.
"It's purely about doing what is right financially because if there is no money - and that doesn't just include Rangers Football Club, it includes the SFA, SPL and the old mantra of going right down to grassroots football - we go out of business."
Meanwhile, Green insists his group, which bought Rangers' assets last week, is "not in here to make a fast buck and disappear".
Former director Dave King has expressed concern about cutbacks, while former manager Walter Smith, who fronted an unsuccessful attempt to gain control of the club, has also been lukewarm about Green's plans.
"The investors who have come in have seen this as an opportunity to rebuild the club, but they see this as a long-term investment," added Green.
"We will be announcing further investors in the next few weeks.
"I'd just like to clear up one issue. We're not here to make huge profits and to pay those profits out in dividends back to investors.
"But this club has to make a profit because any business, whether it's a football club, a petrol filling station or a corner shop, has to do that.
"If it doesn't make a profit, it goes out of business and we haven't spent all our time and resources to acquire this club then allow it to go back the same way within a year."