Torquay United will replace star pair, says captain Lee Mansell
By Brent Pilnick
BBC Sport
Last updated on .From the section Football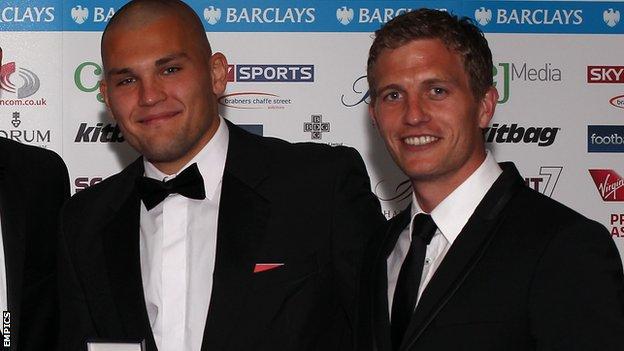 Torquay United captain Lee Mansell is confident manager Martin Ling will bring in the right players to replace Bobby Olejnik and Eunan O'Kane.
"We've got to stand by what the gaffer does now," Mansell told BBC Sport.
"He brought in Brian Saah and Bobby, two fantastic players, and hopefully he can do the same this year."
Mansell believes the club's supporters should not be too disappointed at Olejnik and O'Kane's loss.
"It's not the end of the world. Those two players did fantastically well for Torquay United and the people that come into replace them may be as good or even better.
"The positive thing is that we've got so far on a limited squad, we didn't use a lot of players last year and in terms of that we did fantastically well.
"Hopefully the gaffer can sign a few more and the board will give him some more money this time around and he can bring a few more fresh faces in."
Mansell, says O'Kane and Olejnik have been two of the best players he has come across in his career - and he is sure they will go on to greater things in their careers.
"Bobby deserved his move and is a top goalkeeper.
"In my 12 years as a professional he's probably one of the best ones I've played with and I've been fortunate enough to play with some really good goalkeepers.
"When you get success at a football club your players get looked at and a Championship club has come in and it's good value for the football club," he said.
"A player of Eunan's quality is very rare to find these days.
"Knowing Eunan as I do for a few years now, he's a very grounded lad and it's unusual for a kid of that much ability and being so young.
"With the talent he's got he was expected to produce a lot and unfortunately for us he did this year - it'll be a blow but it'll give someone else an opportunity to try and fill Eunan's void."