Dave King fears Rangers are attractive only to asset strippers

By Alasdair Lamont
BBC Scotland
Last updated on .From the section Football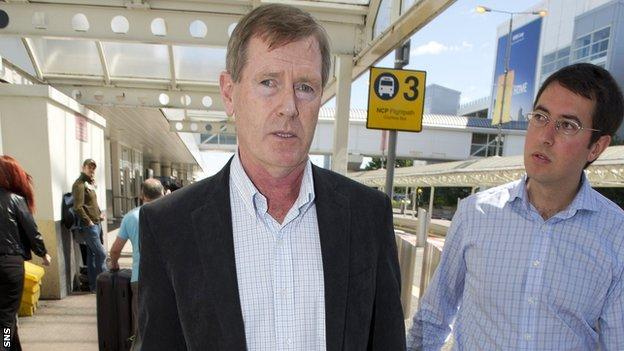 Dave King says Rangers need investment from funders on a non-commercial basis for the next three years.
At the moment, he believes Rangers only represent a good buy for an asset stripper.
King was the second largest shareholder in the soon-to-be-liquidated Rangers Football Club plc.
He arrived in Scotland on Monday for discussions about the way ahead for the new Rangers.
Asked if the best way forward for the club would be under the Walter Smith-led consortium, who held a preliminary meeting with the current owners through an intermediary on Sunday, he said: "I would think so because my understanding from [new chief executive] Mr [Charles] Green is that he sees this as being a financial opportunity.
"I really don't believe Rangers represents a financial opportunity for anyone other than an asset stripper.
"There is only one way forward for the club and that is that the club needs a level of funds which is way beyond the ability of the fans to support it with season tickets.
"There is a structured financial deficit and unless the club gets access to funders who are willing to put money in on a non-commercial basis, I think for at least three years, then I don't think the club will go forward."
King reiterated his belief that Green, like Craig Whyte before him, would not see out a season at Ibrox, but he added: "If Mr Green does come up with the money, then I'll be one of the first to support him.
"I think what we do have to avoid is another situation where essentially someone has come in and acquired the club and is going to use the fans' money."
King held a two-hour meeting with Green in Glasgow on Monday, after which the Scot felt "not unhappy" with the discussion and also "better informed".
However, he indicated he would have more to say on Tuesday.
King will also be speaking to members of the Walter Smith consortium bidding to buy the club, but has not committed to putting money in himself.
"I'm able to do it, it's just a case of making sure what makes most sense for the club," he went on.
"If I believe the right plan is put in place, that I think best meets the needs of the club going forward, then it's certainly something I would consider and am capable of doing."