Crewe chairman John Bowler still wants to play with the big boys
By Ged Scott
BBC Midlands Sport
Last updated on .From the section Football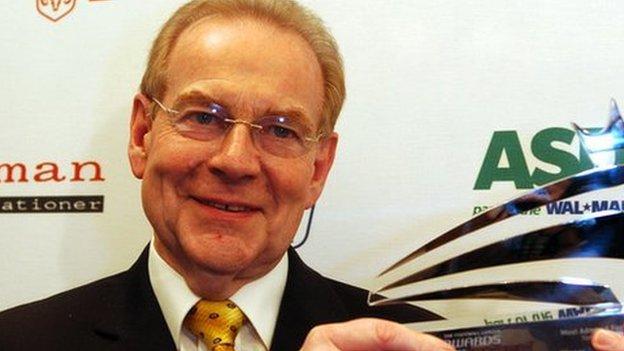 Crewe chairman John Bowler is hoping they can be ranked alongside many much bigger clubs when English football's Elite Player Performance Plan takes effect at the start of next season.
Crewe, renowned as a production line of talent over the past three decades, have applied to be rated as a Category Two club - just below the top level.
"Within Category Two, there'd be some big, big teams," said Bowler.
"I don't think there'd be another Category Two club our size," he added.
"That says something of what Dario Gradi's done down the years at our Academy and what James Collins and Neil Critchley are doing now.
"We've submitted our application to the Football League, who are examining our documentation.
"We hope they will agree with us that we should become a Category Two club. That's the kind of standing we feel we deserve.
"We feel we have earned the right to be in that group. We want to be associated with those types of clubs.
"It's important for no other reason than our games programme. We want to be playing against quality Academy sides."
As one of English football's most flourishing nurseries, Crewe have banked more than £20m in Gradi's time at Gresty Road.
And there remain fears that lower-level Football League clubs will be exposed following the abolition of the tribunal system which sets fees when clubs cannot agree a transfer for home-grown youth players.
But one of this season's current crop, Matt Tootle, part of the team that helped the Alex win promotion to League One and earn his teenage team-mate Nick Powell a big money end-of-season move to Manchester United, sums up the quality that Crewe's Academy has to offer.
"I don't think I'd be a better player if I hadn't come to Crewe," he told BBC Sport.
"When I was younger I could have gone to Liverpool and probably Everton too, but looking back I wouldn't have done it any differently.
"If I had the chance to do it all again, I'd still come to Crewe, just for the chance of being taught how to play football and the experience of working with Dario Gradi.
"It's about learning to play football and this is the best club outside the Premier League for that."
Chairman Bowler, his club's bank balance freshly bolstered by the first £3m instalment of Powell's move to Old Trafford, is confident clubs like Alex - who know they need to produce a £1million player every two years - can survive.
"We've always got to be sensible," he said.
"If there's an exceptional, outstanding player, we know he's going to attract interest early on, but not many fit into that category.
"I'm pretty sure that the new Academy arrangements aren't going to turn that on its head.
"It's still up to us to persuade these young players that this is the right place to be, where you can develop your career.
"We've got to go out and promote that."