Euro 2012: England players visit Auschwitz
Last updated on .From the section Euro 2012
England's players paid a sombre visit to the former Nazi Auschwitz-Birkenau camps in Poland on Friday.
The private trip to the site of the death camp left a strong impression on England manager Roy Hodgson.
"It is a very chastening experience. It's difficult to imagine this type of inhumanity," he said.
Striker Wayne Rooney added: "It's good to get that history of what happened. It puts football into perspective."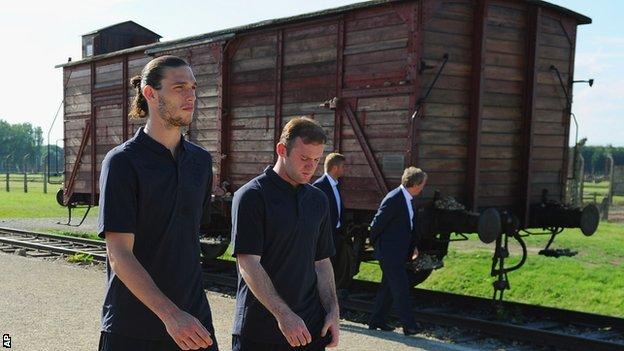 Rooney was joined at Auschwitz - where an estimated 1.1 to 1.5 million people died during World War II - by England team-mates Joe Hart, Phil Jagielka, Theo Walcott, Jack Butland, Andy Carroll and Leighton Baines.
After walking through the gas chambers and crematoria of Auschwitz, Rooney described his feelings of near disbelief.
"It's hard to understand," Rooney said. "I am a parent and it was tough to see what happened there.
"You've seen the amount of children who died. You see the children's clothes and shoes, it's really sad.
"You have to see it first hand. You don't realise how those who lived there to work managed without food, without water. It's a form of torture and then they died. The others got murdered."
England coach Hodgson added: "I have no great knowledge of the war, but obviously know about certain aspects of it."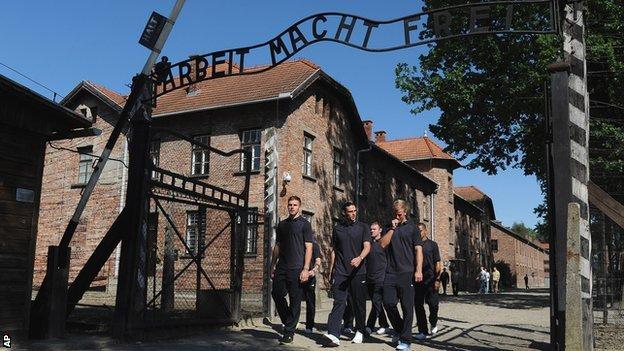 "You cannot understand how it can be so systematic, dehuman. It was a job. It is difficult to get your head around.
"There are so many lessons to be learnt and understood from the Holocaust and we believe football can play its part in encouraging society to speak out against intolerance in all its forms - and in advancing the important work of teaching future generations about the horrors of the Holocaust."
Football Association chairman David Bernstein, along with Hodgson, wore a skull cap to light a candle in memory of those who died.
Jewish himself, and born in 1943, Bernstein revealed his grandfather had been born in Budapest but the family emigrated to the United States 100 years ago.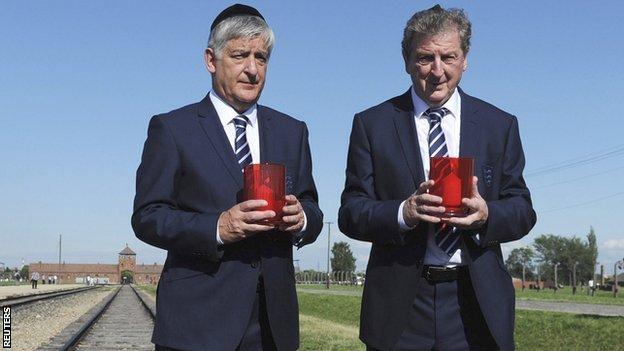 Had he remained, he could have been among those rounded up on Hungary's streets under the orders of Heinrich Himmler in 1944 as the Final Solution brought up to seven trainloads of Jews a day to Birkenau.
Arsenal winger Walcott said the visit had brought home the reality of a subject he had some knowledge of.
"It is unreal," he said. "I learned some of this stuff at school but I could never imagine anything on this scale, it is just beyond belief or comprehension."
In a separate visit on Friday, captain Steven Gerrard accompanied other team-mates to Oskar Schindler's factory just outside the Krakow city centre, close to where the England squad are based for Euro 2012.
Schindler's story was chronicled in the 1993 Steven Spielberg film "Schindler's List," which won best picture and other Academy Awards.