SPL integrity beyond purchase, says Hibernian chairman

By Brian McLauchlin
BBC Scotland
Last updated on .From the section Football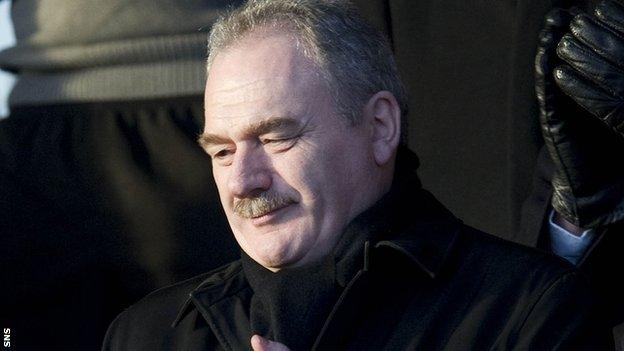 Hibs chairman Rod Petrie has told BBC Scotland that sporting integrity should come before any financial benefit to Scottish Premier League clubs.
Rangers face possible sanctions should they emerge as a new company, while the SPL is also investigating claims of undeclared payments to Ibrox players.
Several club officials have expressed commercial fears about a top flight without Rangers.
However, Petrie said: "Integrity is beyond purchase."
In the last few days, the managers of St Johnstone, St Mirren and Inverness have all said their clubs would suffer if the large support Rangers bring was lost.
Others are concerned that television and sponsorship deals for the league would be withdrawn or revised.
"It's important to us that the integrity of the competition that we take part is maintained to the highest standards," added Petrie.
"It's not a question of any sum of money in return for that integrity
"It's important that all clubs can have a place within football provided they have have earned it in a sporting sense and have abided by the rules."
Many supporters are uneasy at the prospect of a "newco" Rangers entering the SPL.
Top-flight clubs have twice delayed voting on proposed new financial fair play and are due to discuss the matter further on 30 May.
Celtic chief executive Peter Lawwell said last week concerns of his club's fans would be taken into account when voting on Rangers' future.
And Petrie echoed those sentiments, saying: "Listening to supporters is a vital part of what we do.
"It's important that we understand what they are thinking and that we are able to explain the dynamics of the landscape that's in front of us.
"If we are called upon to make any decisions, we will try and do the right thing and uphold the integrity of the competition that we are engaged in.
"We need to find a future for football that people want to be part of.
"We're one of the leading clubs in the country and we have to play our part in making sure we have a successful and vibrant game. A game that's attractive to supporters.
"The game touches almost every household in the country.
"Where we are failing a little bit at the moment is getting the balance between those who are willing to make a contribution, supporters and television.
"Our supporters want games at three o' clock on a Saturday and we have to balance that against the needs of a television audience.
"Of course, TV viewers want to see games played out in front of big, enthusiastic, crowds."