Edinburgh A-list stirred by Scottish Cup final derby

By Brian McLauchlin
BBC Scotland
Last updated on .From the section Football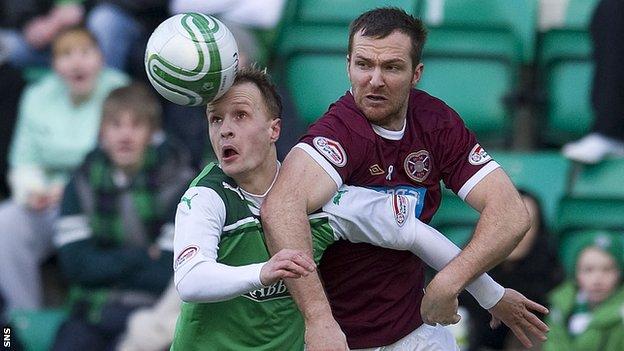 With Hearts and Hibernian meeting in the Scottish Cup final for the first time in 116 years, many Edinburgh natives are homeward-bound from around the globe ahead of Saturday's Hampden showpiece.
Trainspotting author Irvine Welsh is Chicago-based these days but he will travel to Glasgow, via the glitz of the Cannes Film Festival, to cheer on his beloved Hibees.
Actor Ken Stott, may have played Hibs-daft detective Rebus, but the Messiah star is very much in the maroon corner when it comes to football in Scotland's capital.
However, the 57-year-old is in New Zealand working on Peter Jackson's Hobbit films and will not be able to attend.
"It absolutely breaks my heart," he told BBC Scotland.
"In the film business it's impossible to plan anything in your personal life and this is the most spectacular disappointment of my career.
"There's a bar out here I'm hoping will be open at 4am, so I can watch the game. If not, I'll be listening via the internet."
Welsh, 53, will be in the south of France promoting films of his books Ecstasy and Filth, but he admits he will not be entirely focused on the Croisette schmoozing.
"I'm going to be at the Cannes Film Festival but I've cancelled all my engagements for the Saturday and Sunday," he told BBC Scotland.
"I'm flying to Edinburgh from Nice early on Saturday morning then I'll get back to the mundane task of selling my films, which I'm not really interested in right now, because this game is all I can think about.
"I didn't think Hibs and Hearts would ever make it to an East of Scotland Shield final again, never mind the Scottish Cup final! It's absolutely amazing.
"It's two massive clubs who are serial under-achievers and now they are centre stage. It's the one Edinburgh derby the rest of the world will care about.
"I think this is the biggest game to hit Scottish football since WWII. I know people in Glasgow will think it's just another non-Old Firm final, like Dundee United and Ross County in 2010, but I was in England recently and everybody that I spoke to was excited by it. I've got West Ham and Cardiff City pals who want to go."
Unlike, Welsh - or any other living Hibs fan for that matter, Stott has had the pleasure of seeing his side lift the Scottish Cup before.
"I was at the final in 1998 when we beat Rangers," he said. "I was working in Glasgow at the time and the following morning I had to go down to the shops to get the newspapers just to make sure it had actually happened.
"I was expecting some fantastic celebration on my part, but I spent most of the time gasping, open-mouthed."
Hibs last picked up world football's oldest trophy in 1902 but Welsh, who has referenced both teams in many of his works, believes it is time to set that awful record straight.
"Hearts have got such a good record against Hibs in recent years but everybody has had a good record against Hibs these last few years because they've been such a soft touch," he added.
"[Manager] Pat Fenlon has turned it round. He's built a much more solid defence and they've got guys who can score goals.
"The key is in midfield. If they can hold up that area then they have a really good chance.
"But I'm always confident with Hibs. I'm still in a 1970s time warp!
"When I was playing as a kid I would argue with my pals about who got to be Pat Stanton, Colin Stein or Peter Cormack.
"When I was growing up Hibs were one of the greatest teams in Europe and I thought 'it's going to be like this all the time'. But it didn't quite work out that way."
Stott, who will be playing noble warrior dwarf Balin in the Hobbit films, has also been a lifelong fan.
"My father took me along to Tynecastle when I was five-years-old, when Willie Hamilton and John Cumming were playing," he explained.
"But I watched both teams. I'd go to Easter Road when Hearts were away. I have a real fondness for Hibernian, although it doesn't go as far as my fondness for Hearts. If there are two teams I want to do well it's Hearts and Hibs, in that order.
"On paper, we know what the result should be. Hearts have a great record against Hibs. But, of course, it's a cup final and you can throw all that stuff out.
"Maybe the fact it's been so long since they've won it, could be problematic for Hibs."
Welsh also admits having a soft spot for his rivals.
"Because I grew up in a Hearts-supporting household, I've always seen it as friendly banter," he said. "I've got a lot of family members and friends who follow Hearts, so I don't have that vitriolic hatred that some have for each other."
Should their paths cross at a party in Hollywood or Holyrood, Welsh and Stott are sure to indulge in a spot of such teasing. But who will have the bragging rights?
You can follow Brian McLauchlin on Twitter