Barcelona dismiss claim Messi called Drenthe 'negro'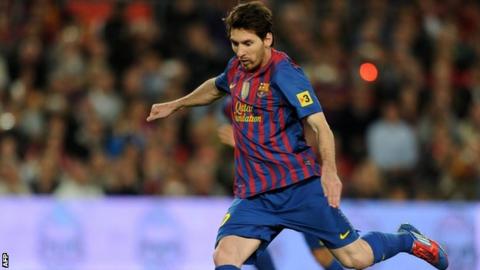 Barcelona have defended Lionel Messi against accusations he directed a racial term at Royston Drenthe.
Drenthe, who is currently on loan at Everton from Real Madrid, claims Messi called him a "negro" repeatedly during his time in Spain.
Barcelona have dismissed the claims and praised Messi's character.
"The player has always shown maximum respect and sportsmanship towards his rivals, something recognised by fellow professionals," a spokesman said.
"We are sure that any accusations to the contrary are well wide of the mark."
Drenthe, 25, has spent this season, the final year of his Real Madrid contract, on loan at Goodison Park but he has been excluded from David Moyes' squad in recent weeks for disciplinary reasons.
He joined Real from Feyenoord in 2007 and spent last season on loan with Spanish side Hercules.
In an interview with Dutch magazine Helden, Drenthe says he clashed with world player of the year Messi, 24, during his time with Hercules.
He has also accused former Real team-mates Gabriel Heinze and Gonzalo Higuain of using similar language on the training ground.
"I played against [Messi] many times and we always have problems with each other," Drenthe said.
"You know what bothers me so? That tone with which he always says, 'negro, negro'. I understand that negro in South America is very common, but we cannot stand it.
"When Hercules played Barcelona, during the game I had a small altercation with him. He gave me a hand in the match and again said a few times, 'hola negro'.
"Mahamadou Diarra, my team-mate at Real, could explode if 'negro' was aimed at him. The Argentineans Gabriel Heinze and Gonzalo Higuain said it initially on the training ground, but they were stopped."
The interview with the Dutch magazine was conducted on 18 April in Holland.
When the subject turned to the forthcoming El Clasico, Frits Barend, who conducted the interview, asked who Drenthe would be supporting.
"Real Madrid," was Drenthe's reply.
The Dutchman then said he would not expect a birthday card from Messi because of a number of run-ins with the player, dating back to August 2008 when the Netherlands met Argentina met in the Olympic football tournament in Beijing.
Drenthe claimed that, after he missed a chance to win the game in the 87th minute, Messi turned to him and called him "negro" for the first time. Argentina went on to win the match in extra time, and the gold medal in the final against Nigeria.
The alleged angry exchanges between Drenthe and Messi continued in La Liga, with the Dutch international claiming the World Player of the Year repeated the phrase to him in numerous club matches.
The last time the players met, Drenthe claims Messi also refused to shake his hand at the end of the match.
On Thursday, the Spanish Primera Liga said it was not planning to take action against Messi.