DFC 1883 Limited group complete purchase of Darlington
Last updated on .From the section Football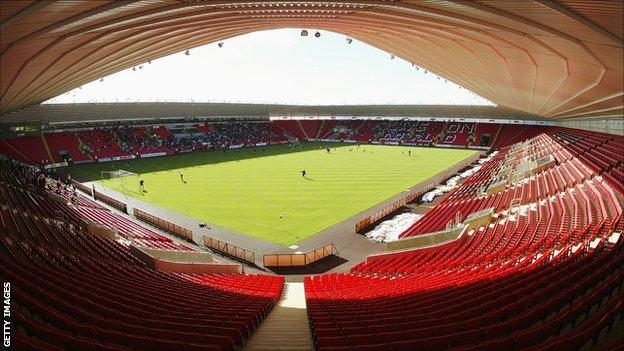 DFC 1883 Limited have completed the purchase of the assets of Darlington Football Club from administrators.
The deal means the group will now take over the running of the club, while debts relating to it remain with Darlington 2009 Limited.
However, the group are keen to work with local creditors, as DFC 1883 are not liable for the debts.
"We'll work on a plan to cater for some of the local companies," 1883 chairman Dennis Pinnegar said.
Among the creditors owed money are the current players and staff, who have opted to defer full payment of their salaries to help the bid go through.
"The players were prepared to do whatever it takes to allow the club to survive," interim manager Craig Liddle said.
"We've been through a lot, myself as the manager and the players, and there is affection for the club.
"I've said it on numerous occasions the players deserve credit for what they've done previously and for what they're prepared to do in the future to allow the club to continue."
Darlington will not be allowed to compete in Blue Square Bet North next season, either because of a lack of a suitable ground or via Football Association punishment, which could mean a reprieve for Hinckley.
The Quakers, however, are hopeful of obtaining entry into step three of the football pyramid and the Northern Premier, but any decision will lie with the FA.
"We'll face further relegation, but until the FA give us their wisdom we won't actually know whether it will be to the Evo-Stik Premier or Evo-Stik First Division," Pinnegar added.
"We have to apply for a football playing licence, the FA's ability to award that licence is coloured by our behaviour.
"I would like to say that our behaviour has been impeccable, they will not find any flaws in anything that 1883 have done to bring about the situation that we now have it, we're crystal clear on that."
With the deal complete, the next step for the club will be to find a suitable playing venue, following the decision to leave the Arena on Tuesday.
The club's initial pledge for the Creditors Voluntary Agreement was withdrawn, and as such the initial BuyDarlo share issue is now obsolete.
Pinnegar remains confident the supporters will back the new proposal.
"The money gets paid back, because the pitch we made under Crowdcube in January has now changed," he added.
"We asked them to subscribe to a pitch and if that changes we give them the money back and say - 'this is a new pitch, would you like to subscribe'.
"We need to raise a couple of hundred thousand pounds by the end of June, to continue."