Nigel Pearson expects busy summer at Leicester City
Last updated on .From the section Football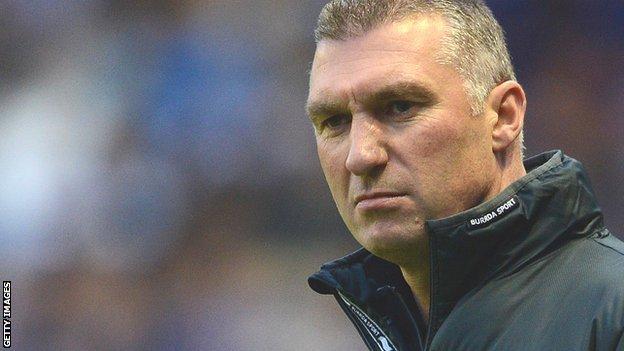 Leicester City manager Nigel Pearson insists the new Financial Fair Play regulations will not prevent the club making "significant" investment in the squad during the close season.
Pearson told BBC Radio Leicester they would not be "throwing cash around".
But he said: "We'll be able to do some significant developing of the squad."
Pearson added: "Just because I say we will do business, it does not mean it will be a free-for-all with spending.
"We will always try to bring players in who will give us value for money, not just in the immediate term.
"If we are to spend money on players, they have to be sound investments as well.
"Clearly with the Financial Fair Play, there will be a number of clubs who will have to look very carefully at the structuring of how you do your business, both in terms of money spent and the salaries of players.
"Along with a number of other clubs, we will have to be a little bit more thoughtful in how we do that."
The new rules mean owners will be allowed to invest £6m next season, £5m the year after, then £3m in the 2014-15 season.
From 2015-16, clubs will be allowed to make a £2m operating loss, as well as accept a £3m investment from an owner - allowing for a £5m overall loss.
Leagues One and Two will continue to limit spending on wages to a proportion of turnover.
Pearson, however, remains unfazed despite Leicester being one of only three clubs to vote against the changes.
The Foxes are backed by Thai owners and have invested heavily in their playing staff in the past 12 months.
Pearson added: "I'm a big believer in making sure we do things the right way anyway because, as we have seen with a few other clubs, the financial situation puts the club in doubt.
"We have been in that situation as a club. We've been in administration and it is something you have to be mindful of.
"We are very fortunate to have wealthy benefactors who are committed to the long-term future of the club. That is a huge plus for all of us."