Bill Miller to make new Rangers bid by Monday
Last updated on .From the section Football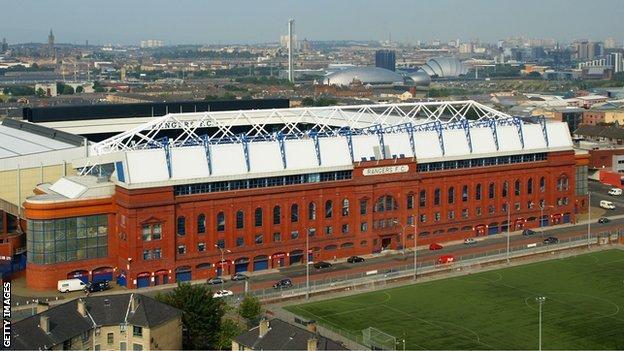 American Bill Miller will make a new bid of £11.2m for Rangers on Monday and has urged other prospective owners to "put up or shut up" by then.
His plans for an "incubator" company would, he claims, avoid liquidation, but he warns that they are dependent on the Scottish football authorities not imposing further sanctions on the club.
"There is no time left for empty promises and grand-standing," he said.
Administrators have also been dealing with three other parties.
Bill Ng, the Blue Knights and Brian Kennedy may yet return with improved bids but the American's existing offer to administrators Duff & Phelps is the only one still on the table.
Miller said of his new offer: "I have proposed a purchase through a CVA (company voluntary arrangement). I have no plans for liquidation."
However, he insists that if the Scottish Football Association or the Scottish Premier League demand further sanctions than those imposed on Rangers this season - a 10-point SPL penalty for entering administration - then he will not follow his offer through.
The administrators stated earlier in the week that they sought unconditional bids.
Miller added: "My offer is contingent upon the regulatory bodies agreeing that the club will begin play in the 2012/13 season in the SPL and that they will do so without any loss of points and with all historic titles intact.
"It is my strong view that Rangers and their fans should not continue to be punished in the future for the past failures of others.
"Rangers need a fresh start and I will always stand up for the club."
Professor David Hillier, vice dean of Strathclyde Business School, disputes Miller's claim that his offer would avoid liquidation.
He told BBC Scotland: "He is wanting to create a newco. The assets of Rangers Football Club would be transferred to an 'incubator', a term normally used in a start-up.
"This isn't an incubator. This is a company set up as a new firm.
"Why? If the agreement between the creditors is not achieved then this new club can set sail without any issue of debts holding it down.
"If the bid of Mr Miller is successful then I would expect Rangers Football Club would be liquidated.
"However, I don't believe the bid will be accepted."
In a lengthy statement, Miller, who runs a tow truck business, said: "The time has come for all interested parties to either put up or shut up.
"Let's save Rangers; there is no time left."
Miller says he is the only bidder who "refused to entertain offers from Ticketus or engage in discussions with Craig Whyte".
Also, in an apparent swipe at former Ibrox director Paul Murray, the Blue Knights consortium's figurehead, he claimed "it is difficult for me to see how any parties who were present when this awful situation was created can be a legitimate part of the solution".
While claiming he has always favoured a CVA to exit administration, Miller argues that there is "no way" that Ticketus, the London finance company that supplied Whyte with the cash to buy Rangers in exchange for future season ticket revenue, would accept a "pence in the pound" settlement.
He points out that Ticketus's £27m claim would, as it stands, allow them to block such a deal because the cash owed to them is greater than 25% of the total.
Miller believes a regular CVA could incur law suits and lengthy negotiations which would weaken Rangers.
His plan, which includes the £500,000 deposit required by Duff & Phelps, would offer "a solution that saves Rangers, protects its history and gives it a fresh start - rescued from the ruin created by others".
He added: "In order to preserve the club's history, records, championships and assets, I will put the 'heart' of the club into an 'incubator' company while Duff & Phelps works to make the 'sick patient' healthy through a CVA process.
"Once the CVA process has been completed and the patient is on the mend, the administrators will return Rangers Football Club plc to me for a nominal sum.
"The healthy heart and the healthy patient (The Rangers Football Club plc) will then be reunited through merger.
"In this scenario, the club can continue with all of its business assets, including its history, protected from the present illness.
"Thus a new corporate entity will own the club's assets during the incubation period including all of its history.
"Any suggestion that Rangers' history is lost by such a process is preposterous."