Rangers: SFA judicial panel delays Craig Whyte disciplinary ruling
Last updated on .From the section Football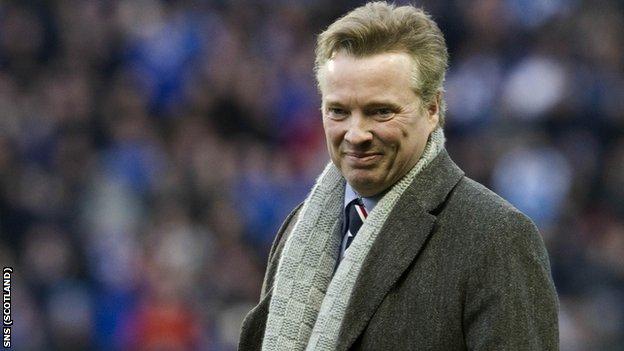 The Scottish FA's judiciary panel has delayed its ruling into alleged rule breaches by Rangers and the club's owner Craig Whyte until next week.
Rangers and Whyte have been charged with seven breaches of SFA rules.
Whyte, who refused to appear before the panel, is charged on two counts of not being a fit and proper person to be a club director.
The SFA said there would be no announcement on Friday.
The club is charged with five offences, including failing to abide by SFA regulations over the "fit and proper" person's test, and Whyte, ruled unfit by the SFA to be a club official, faces two charges.
In a statement, the SFA said: "The judicial panel have advised that, due to the schedule of evidence and final submissions in respect of the tribunal involving Rangers FC and Craig Whyte, there will be no announcement of determination today.
"The panel chairman has advised that a period of deliberation will follow today's hearing, with an announcement anticipated in early course next week."
The SFA adjourned the original hearing on 29 March after Whyte's lawyers asked for more time to prepare a case but the owner failed to attend a procedural hearing on 6 April which was set for him to "lodge a substantive response and for representations to be made as to state of preparation".
Whyte, who holds an 85% stake in the club, told BBC Scotland that he had spoken to two of the interested parties bidding to take charge of Rangers.
Administrators Duff & Phelps have been running the Scottish Premier League club since since 14 February.