Turkey's Emre banned for insulting Didier Zokora
Last updated on .From the section African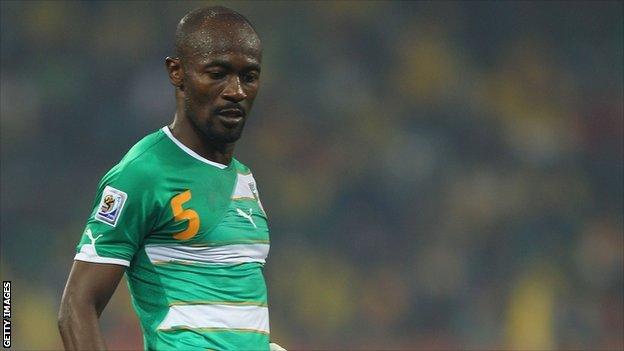 Fenerbahce and Turkey's Emre Belozoglu has been handed a two-match ban for insulting Ivory Coast's Didier Zokora by the Turkish Football Disciplinary Committee (PFDK).
Trabzonspor's Zokora accused Emre of using a racial slur during Sunday's league game between the two clubs.
On Thursday, Trabzonspor filed a civil law suit at an Istanbul court accusing Emre of abusing Zokora.
Emre has denied racially abusing the Ivory Coast midfielder.
Former Tottenham player Zokora first levelled the accusation against Emre at a news conference following Fenerbahce's 2-0 home win in Istanbul over Trabzonspor.
"Emre and I had an argument during the game. I beg your pardon for saying this, but he insulted me by saying [the n-word]," Zokora said.
"What upsets me more is how disgraceful it is for a player who has African team mates like [Senegal's Moussa] Sow and [Nigeria's Joseph] Yobo to insult an African from another team."
The following day, ex-Newcastle player Emre told a news conference he had abused Zokora verbally in English without using racist terms, and that such abuse was common during matches.
"If I have even a little bit of racism, may God take my heart away from this body," Emre said.
The Turkish Football Federation subsequently referred the matter to the disciplinary committee, which decided on the ban.
"Due to the insult to the player of the rival team, it has been decided with the majority of votes to punish Fenerbahce player Emre Belozoglu by sanctioning a ban for two official games," the PFDK said on its website.
Had the committee decided the abuse was racial, Emre could have received a lengthier ban of four to eight matches.
In December, the FA banned Liverpool's Luis Suarez for eight games for racially abusing Manchester United defender Patrice Evra.