Union's Fraser Wishart urges end to Rangers administration
Last updated on .From the section Football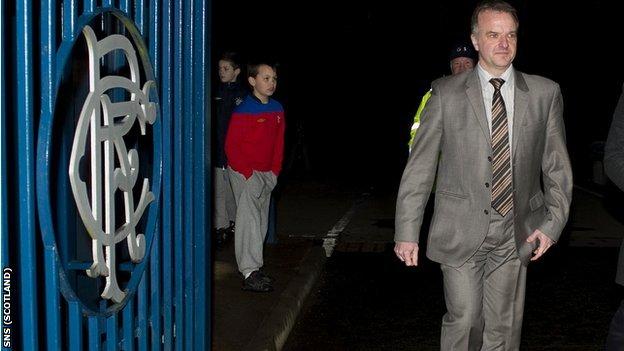 PFA Scotland chief executive Fraser Wishart has criticised Rangers' administrators for so far failing to appoint a preferred bidder.
"We are only a few weeks from the end of the season at which time players' wages will legally revert back to what they were before cuts," said Wishart.
"I don't think they will be making any more sacrifices."
Three parties tabled best and final offers to take control of Rangers but one party, the Blue Knights, have since stepped back from the process and an earlier bidder, Brian Kennedy, has made a renewed offer to buy the club.
The Blue Knights, Kennedy and Singaporean bidder Bill Ng are all keen on achieving a company voluntary arrangement rather than liquidation, which is favoured by American bidder Bill Miller.
Wishart says the union is seeking legal advice because it believes players will be free to leave Rangers if they are liquidated and relaunched as a "newco".
''We believe that's the case under employment law even if Rangers are allowed to keep their name and their history," said the former Rangers player.
"Should a newco be formed the players do not have to go across. They have the right to object to that transfer.
"There may well be complications in terms of Fifa regulations and football regulations.
"I don't think the football authorities have any right to force someone to go and work for a new company should they not wish to. And it will be a new company, whatever it is dressed up as.
"Our position I think will be supported by the football authorities.
"If players do go across their contracts are protected. The newco would have to take their whole contract, wages, terms and conditions. They may all wish to go across. I don't think anyone is actively searching for a way out."
Rangers have five fixtures to fulfil before the end of the season and manager Ally McCoist has already urged an end to the administration process so that planning can begin for next season.
"We believe the best solution to end uncertainty is for a preferred bidder to be appointed and an agreement with creditors to be reached," added Wishart.
"I think it's so important, given the size of the debts Rangers have, that someone is given exclusivity as soon as possible.
"We are hitting real tight time deadlines. In three weeks' time the season finishes, players go on holiday.
"They don't know whether they are coming back, some of them who are out of contract. They don't know what state Rangers are going to be in.
"There is a lot of talking to be done and the players are getting frustrated."