Paolo di Canio angered by off-field antics at Swindon Town
Last updated on .From the section Football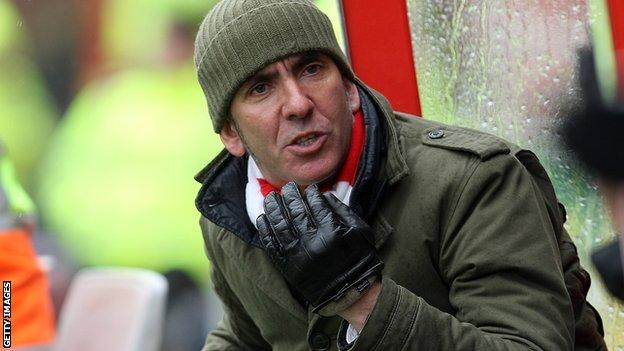 Swindon manager Paolo di Canio believes his players' off-field antics were to blame for their 2-1 loss at Aldershot.
A victory against the Shots on Tuesday would have guaranteed the table-toppers promotion to League One.
Di Canio made several changes to his side for the game and told BBC Wiltshire: "You should ask them why I didn't play them.
"A few days ago, I discovered something really bad. It was a habit in here last year and it's maybe come back."
He continued: "Our position a few weeks ago maybe put some of our players in a decision to think everything is done. Maybe to go out and drink. For some, maybe it is already a holiday.
"For what happened a few days ago, I should change even more players. There is only one player who has an excuse for what happened and that is Alan McCormack because he had a new baby.
"Even if it's a silly excuse, I tried to excuse him for what happened. There is another group of players who did something."
Swindon's poor performance against Aldershot means they will have to wait until at least Saturday to secure automatic promotion, when they could also seal the League Two title if they beat Gillingham and other results go their way.
"The last four games we've deserved to be at the bottom, not at the top," Di Canio added.
"What you do off the field is the product you bring on the field. The last three games there wasn't fire, desire, discipline."
And the Italian, who was absent from the club before Tuesday's defeat following the death of his mother, said his defenders should take the blame for Swindon dropping points.
"The two centre-halves that we saw, it is not a coincidence it happened tonight as there was one I did not want to play but I had to because I have only three," he said.
"For the second goal the big fella thought he was the biggest and the strongest, but he was like a little rabbit, blurry. Ask them why, don't ask me.
"They have to have the courage to stay 'yes I did that two days ago'. If I have to bring a new team in at Gillingham, I will do.
"The problem is that even in the youth team we do not have the professionalism and the desire. If we did I would have no problem bringing in a team of under-16s and 17s to play there."
For the promotion and relegation news as it happens in League Two this Saturday - follow our new exclusive text commentary service Football League Live. It has fixtures, results, as-it-happens tables and regular reports from across the Football League. Saturday, 1400 BST, bbc.co.uk/sport