Hopes of West Ham automatic spot distant, says Allardyce
Last updated on .From the section Football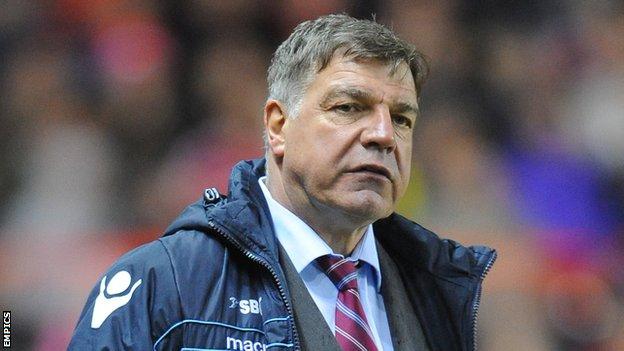 West Ham United boss Sam Allardyce says the club's hopes of automatic promotion to the Premier League are now distant.
He told BBC London 94.9: "We wanted to stay in with a fighting chance by winning. We were always going to have ask someone else to do us a favour.
"It's difficult to win our game and hope Southampton slip up."
He added: "First and foremost, we've got to hope Middlesbrough do us a favour and beat Southampton on Saturday.
"Even if we get that favour we've still got to go and beat Leicester [on Monday]. There's nothing we can do until Monday in terms of ourselves to prepare.
"We'll wait and see and then decide what way forward would be better for us."
Allardyce believes if the Hammers do miss out on the one remaining automatic promotion place, they must not be over-confident going into the play-offs.
"The most important thing, if we end up there, is being prepared for the first two games and not to be thinking about anything other than that," the former Bolton and Blackburn manager continued.
"Anybody can beat anybody in the play-offs.
"Form, league form and position in the league means absolutely nothing when the play-offs come around. You've got to handle the pressure and deliver."
For the promotion and relegation news as it happens in the Championship this Saturday - follow our new exclusive text commentary service Football League Live. It has fixtures, results, as-it-happens tables and regular reports from across the Football League. Saturday, 1400 BST, bbc.co.uk/sport