Anton Zingarevich makes Reading Premier League transfer list
Last updated on .From the section Football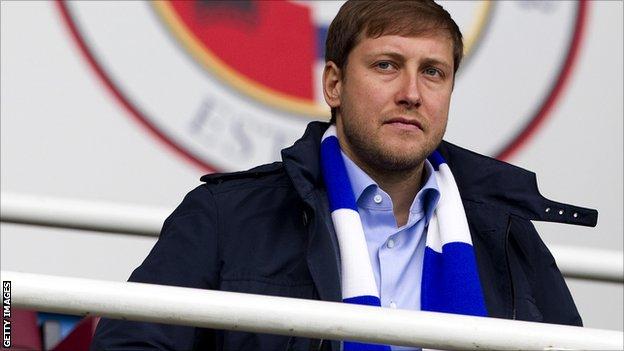 Reading's prospective new owner Anton Zingarevich says the club have drawn up a shortlist of summer signings following their Championship promotion.
Zingarevich is close to completing his takeover of the club, with the Football League ratifying the move.
And the Russian businessman says he has ambitious plans for the Berkshire club.
"We have been scouting for the past three weeks and already have a shortlist, so we'll see what happens," Zingarevich told BBC Radio Berkshire.
His takeover was due to be completed in March, but has taken longer and may now need approval from the Premier League following their promotion before it can be signed off.
However, Zingarevich says he is confident everything will be completed and that he already has ambitious plans for the club, including extending the Madejski Stadium beyond its 24,000 capacity.
"There are a couple of formalities to complete, and it is all on course and I hope it is going to happen very soon," added Zingarevich.
"The Premier League is where you want to be as a football club owner.
"I think there is a lot to develop here but the infrastructure that is already in place is key. We have already started looking at upgrading the academy and the training facilities.
"If we stay up [after] the first year then we will upgrade the stadium. There are a lot of things to do but there is a lot of potential."
The club are now around £90m richer following their promotion and are worth considerably more than the price chairman Sir John Madejski decided to sell them for in January.
But Madejski says he will stick to his original asking price for the club.
"The club is more valuable now, but I've struck a deal, and a deal is a deal," Madejski told BBC Radio Berkshire.
"I've put a lot of money into this football club, which I'm quite happy about. And I hope the Zingarevich family will take Reading on to a different level and into Europe and beyond.
"It's all well getting to the Premier League but you need deep investment to stay there. We've found very pleasant people in the Zingarevichs, who will continue to do things the Reading way. It bodes well for Reading and I hope they will take the club much further.
"I'll be staying on as chairman. If anything, it [the takeover] is a fantastic insurance policy. We'll strengthen as we see fit. We've already strengthened and that will carry on.
"What I don't want is people thinking Reading are an open cheque book. We will be as careful as we have been in the past."
For the promotion and relegation news as it happens in League One this Saturday - follow our new exclusive text commentary service Football League Live. It has fixtures, results, as-it-happens tables and regular reports from across the Football League. Saturday, 1400 BST, bbc.co.uk/sport