Robin van Persie should stay at Arsenal, says Tony Woodcock
By Marc Higginson
BBC Sport
Last updated on .From the section Football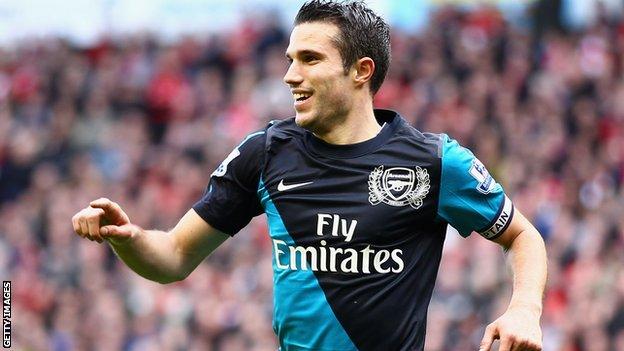 Robin van Persie should reject a lucrative summer transfer to stay at Arsenal and win trophies, says former Gunners striker Tony Woodcock.
"With somebody like Robin, it cannot be a financial thing at this stage in his career," Woodcock told BBC Sport.
"Players want to win things and he is not far from winning things [at Arsenal]. He has to balance that up."
Arsenal's last success came when they won the FA Cup in 2005, Van Persie's only trophy in eight years at the club.
However, Woodcock, who made more than 150 appearances for the club in a four-year spell in the 1980s, is confident the good times are just around the corner for the Gunners.
And he hopes Van Persie, who has scored 34 goals this season, can help end the trophy drought.
"A few years ago, Robin had quite a few injuries and the club stuck by the player," said Woodcock, who scored 68 goals in his Arsenal career.
"Now he has had an excellent season, there is all this speculation about whether he is staying or going.
"I imagine he is financially secure and he will be earning quite a lot of money if he stays with Arsenal. So, for the sake of earning a little bit more money somewhere else, that cannot be the motivation. The grass is not always greener somewhere else.
"Anybody who signs for Arsenal during this period is in a fantastic place. If Lukas Podolski comes, I have said to the German press that, for a 26-year-old coming to play for Arsenal and live in London, and all the things that go with it, it is a fantastic opportunity.
"I would think Robin will add all of those things together too."
Arsenal are likely to qualify for the Champions League this season, despite a poor start to the season which included them losing 8-2 to Manchester United at Old Trafford.
They have rediscovered their form well and have lost just two of their last 12 Premier League matches.
"I don't like it when people add up how many years it is since Arsenal won a trophy, because they are close and not too far off it," said Woodcock.
"This season, after a terrible start, they are in third place. If you had said in the early months, Arsenal would qualify for the Champions League, people might not have believed it.
"If they do get into the Champions League, that would be a success, but Arsenal fans do want to win something at some point."