Stiliyan Petrov 'positive' about leukaemia recovery
Last updated on .From the section Football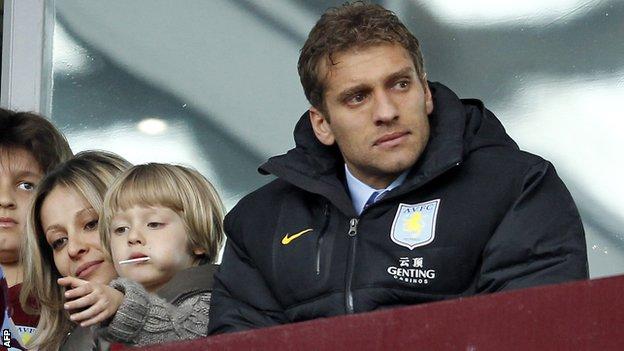 Stiliyan Petrov has made his first visit to Aston Villa's training ground since being diagnosed with acute leukaemia and is "feeling positive", says first-team coach Gordon Cowans.
Cowans revealed the Villa captain visited the training complex last week.
Petrov was diagnosed last month and has been undergoing treatment.
"He was so bubbly. He took his hat off and has shaved his hair and looked very well. He is very positive he is going to beat the illness," said Cowans.
The Bulgarian midfielder's condition was diagnosed after he developed a fever following his team's defeat at Arsenal. The Villa supporters paid tribute to Petrov in their next match against Chelsea, before he started his treatment on 2 April.
"He looked really well and was feeling positive about himself," added Cowans.
"He's got a hard week this week [with treatment] but he is a fighter and will come through this."
Aston Villa, who are 15th in the Premier League and six points above the relegation zone, have taken only two points from their last four matches without Petrov and Cowans wants the team to finish strongly in honour of their captain.
He said: "It has been uplifting and the rest of the lads need to look at that. Everyone is on his side and behind him.
"What we really need to try for Stiliyan is to get ourselves out of the mess we are in at the moment."