Aston Villa players must share blame - Graham Taylor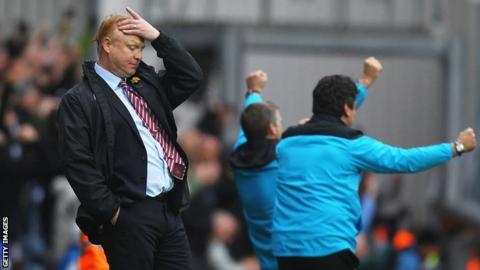 Aston Villa's players must take much of the blame for the club's problems this season, says former manager Graham Taylor.
Villa are sliding towards the Premier League relegation zone after picking up just two points from a possible 15.
"A number of Villa players must look at themselves and ask 'have I, every time, committed myself to the cause?'" said Taylor.
Villa are six points above the drop zone with five games left.
Taylor also feels Alex McLeish's association with city rivals Birmingham has made life difficult for the Villa manager, who left St Andrew's to become Villa boss last June.
"There was always going to be a group of fans who would never accept Alex," said Taylor.
It is understood that 'McLeish Out' flyers will be handed out before Villa's forthcoming home game against Tottenham.
Taylor says McLeish has been hampered by a tight budget and a failure to replace the likes of Ashley Young and Stewart Downing, who departed in the summer. He thinks Charles N'Zogbia, who joined from Wigan, has been "almost a disaster".
"Some of the supporters have moaned and groaned because they feel Alex has set up his teams not to lose as opposed to set them up to win," said Taylor.
"It's an easy thing to say. The money hasn't been available to Alex that had been to Martin. There was a big financial deficit and that couldn't continue.
"Young and Downing are two attacking players who are very talented and you are going to miss them.
"Unfortunately, looking at the replacements, N'Zogbia has been almost a disaster, a major disappointment. He just hasn't produced at all."
Ex-England boss Taylor, who was in charge of Villa from 1987 to 1990 and from 2002 to 2003, believes McLeish was in a difficult position on his arrival from St Andrew's.
"Anybody that's at Birmingham City and moves to Villa, if they don't 'win, win, win' as soon as they start, the criticism of their appointment will get fiercer," said Taylor.
"And that's what happened to Alex to the extent that, when you're not winning games, the players lose confidence.
"It's been hard for him to make the players get belief in him as to how he wanted them to play."
The sight of O'Neill will be a reminder of happier times for Villa supporters. Sunderland have improved dramatically under the Northern Irishman, positioned in ninth place - six places above McLeish's team.
Taylor said: "There was a fall-out between Martin and the club and Martin left. What is very difficult for Alex - and is not his fault - is that it was most surprising that he was offered the job.
"Before that, Villa supporters got on the internet and said 'we don't want Steve McClaren, we don't want him here'. And Aston Villa called off the interview that they were going to have with Steve.
"I was most surprised at that and thought it was very rude as well. And yet, immediately after that within a week or 10 days, they appointed Alex McLeish from Birmingham.
"And there were far more comments on the internet than there had been about Steve McClaren, but they took no notice of them on that occasion."
McLeish still has work to do to keep his side up, but they have a six-point lead above third-bottom Bolton, who have played one fewer match than Villa, and are four points clear of 17th-placed QPR with a game in hand.
After the Sunderland match, Villa's run-in concludes with home games against Bolton and Tottenham and away fixtures at West Brom and Norwich. Taylor would like to see a more attacking style of play from his former club.
The 67-year-old, who led Villa to second place in 1990 before becoming England manager, explained: "I just think it's better to lose a game by trying to win it. I don't expect everyone to agree with me but it's better for the supporters, spectators and the game as a whole.
"If you are preparing your side not to lose - I'm sure Alex would disagree, but that's how it looks - then, if you don't win that game, you come in for a great deal of criticism. That's what's been happening at Villa."
Discussing the atmosphere at the club, he added: "It's created a very downtrodden air when you go to Villa.
"People are worried, they're not happy, they're gloomy and that doesn't help trying to get results on the pitch."