Bradford City ex-boss Stuart McCall has promotion ambition
Last updated on .From the section Football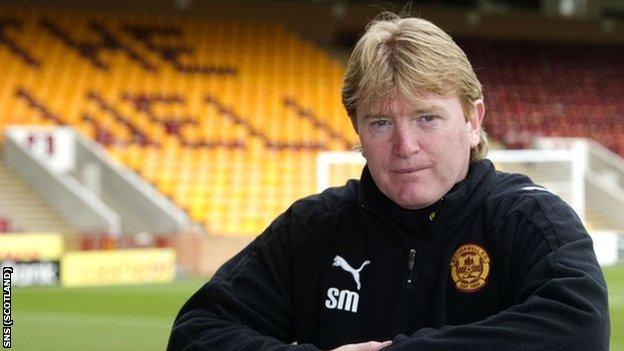 Former Bradford City boss Stuart McCall "would love" to lead the Bantams to promotion at some point in his career.
"If I was to say I had one desire or ambition it wouldn't be to manage in the Premier League, it would be to get a promotion with Bradford City," he told BBC Radio Leeds.
"That's one thing I'd love to do and it will always rankle with me that I let people down during my time there."
He added: "I've been lucky in my career, certainly ability wise, to have played for four great clubs and play almost 1,000 games but what happened at Bradford will always be in the back of my mind."
McCall, who played 395 league games in two spells as a player at Valley Parade, was unable to guide the Bantams into the League Two play-offs during his tenure.
The Steelmen manager says he still looks back at his time at the club, particularly the second season.
"I enjoyed every minute at Bradford. Towards the end the games and the results were horrible but I absolutely loved being on the training ground," he continued.
"I was deeply disappointed that we never got the success that the fans deserved, things just didn't work out for me.
"In the second season we got a great start and the expectation levels rose and I just don't think we coped with it. But how we didn't make the play-offs then still hurts me."
Bradford are currently 18th in League Two having flirted with relegation zone throughout the season.
McCall believes that the club suffer from teams raising their game when they visit the Bantams.
"People can't understand how Bradford are where they are with size of crowds they get but we know the situation isn't like that.
"I remember watching Barnet play Chester one Tuesday and they were terrible but when they came to us on the Saturday they raised their game. It was like their Wembley.
"Teams that come to Bradford always look to put in a stronger performance and whoever is manager of the club at the time needs to get their head around that.
"When I look at the players and managers that the chairman has brought to the club it's like there's a jinx but that's got to be broken sooner or later," he concluded.
For the promotion and relegation news as it happens in League Two this Saturday - follow our new exclusive text commentary service Football League Live. It has fixtures, results, as-it-happens tables and regular reports from across the Football League. Saturday, 1400 BST, bbc.co.uk/sport